IQIYI (IQ) - Deep ABC Pullback Scenario
There is a lot of hype on iQiyi , which IPOed in March 2018. As we can see on the 4H chart, price has been rallying sharply until mid-June. Since price hit $46.25, IQ has been retreating sharply. There were many buyers at $30, but the subsequent rebound failed to push above $38. Now, I think there is another period of hype-deflation.
For an IPOs that saw more than 300% growth in just a few months, I think its reasonable to have a deep pullback, let's say 78.6% (fibbonacci ratio).
IQ 4H Chart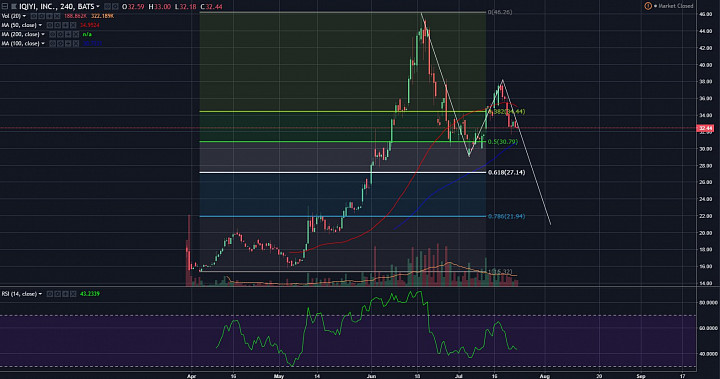 (click to enlarge)
ABC Correction?
- I am presenting a rather aggressive pullback, so using this scenario to plan for a buy risks not being executed.
- However, we should be prepared for such a deep retracement after such an aggressive run. The fact that price action is still volatile suggests that this is still a stock many traders are using for swing trades and quick profits.
- When this wave of traders resolve their plays, we might end up with a sharp pullback.
- An ABC correction projecting the current dip as the length of the first dip, points towards the $21 area.
- The $22 area is 78.6% retracement.
- I think we should at least wait for a dip towards $27.15 (61.8%). But I also think it might be prudent to be prepared to average in if price continues lower to $22.
- Meanwhile, Now that the market is no longer bullish, I would wait for the RSI in the 4H chart to dip below 30. A bullish divergence would help with the confidence of a support.
Strong Narrative:
- This company is already building a strong narrative to become a giant in China as Netflix is in the US.
- It is founded and supported by Baidu , China's largest search engine (like Google $GOOGL).
- As the Chinese population move higher into the middle and upper middle class, iQiyi has enormous growth potential even though it has already grown tremendously since it's roll out almost 10 years ago."

Despite the strong narrative, I think the IPO hype will be flushed before a more sustainable trend develops.