Redfin (RDFN) Defending Against Market Weakness with Growth Prospect in Earnings Report
Redfin $RDFN reported Q2 earnings after the Thursday trading session. Here's a recap from Zacks.com:
Redfin (RDFN) Reports Q2 Loss, Tops Revenue Estimates:
Redfin (RDFN - Free Report) came out with a quarterly loss of $0.14 per share versus the Zacks Consensus Estimate of a loss of $0.15. This compares to earnings of $0.04 per share a year ago. These figures are adjusted for non-recurring items.

This quarterly report represents an earnings surprise of 6.67%. A quarter ago, it was expected that this real estate broker would post a loss of $0.75 per share when it actually produced a loss of $0.74, delivering a surprise of 1.33%.
Over the last four quarters, the company has surpassed consensus EPS estimates four times.
Redfin, which belongs to the Zacks Real Estate - Operations industry, posted revenues of $197.78 million for the quarter ended June 2019, surpassing the Zacks Consensus Estimate by 3.88%. This compares to year-ago revenues of $142.64 million. The company has topped consensus revenue estimates four times over the last four quarters.
The sustainability of the stock's immediate price movement based on the recently-released numbers and future earnings expectations will mostly depend on management's commentary on the earnings call.
Redfin shares have added about 25.3% since the beginning of the year versus the S&P 500's gain of 18.9%.
---
With an upstart like Redfin, the market is focused on growth more than earnings. So it makes sense that even it is operating at a loss, the growth in revenue suggests upside.
According to Motley Fool,
Redfin is gaining share in the $80 billion U.S. real estate brokerage industry. The company accounted for 0.94% of U.S. existing home sales by value in the second quarter, up from 0.83% in the year-ago period.
Redfin's low-fee internet-based model is clearly resonating with home buyers and sellers. Visitors to the company's website and mobile app jumped 27% year over year.
To further fuel its growth, Redfin is expanding its brokerage services to new markets. The company says it now serves more than three-quarters of the U.S. population.
In turn, growth in Redfin's brokerage revenue accelerated to 17% in the second quarter, up from 15% in the first quarter 13% in the fourth quarter of 2018.
Better still, Redfin's other divisions are growing even faster. Its Redfin Now home buying and selling business saw revenue soar 344% to $39.9 million. Meanwhile, Redfin's other businesses, which include its mortgage and title services, grew revenue by 89%, up from 59% in the second quarter.
Redfin is investing aggressively to expand these businesses, which is weighing on it profitability. Yet this is consistent with Redfin's philosophy of sacrificing short-term profits for long-term value creation. "We expect these businesses, which already contribute meaningfully to revenues today, to contribute meaningful gross profits three to five years from now," CEO Glenn Kelman said during a conference call with analysts.
All told, Redfin's companywide revenue leapt 39% to $197.8 million. The company did, however, generate a net loss of $12.6 million, or $0.14 per share.
---
RDFN Daily Chart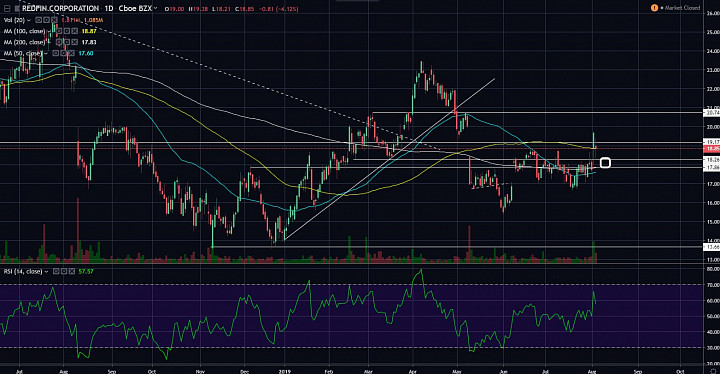 (click to enlarge)
Bullish Breakout:
- Price has been consolidating since May under the $19 handle.
- The reaction to the earnings report pushed price above $19, but NOT above $20.
- To me, this is a strong reaction, but not completely convincing yet.
- Indeed, we saw price retreat during the 8/5 session, one where the Nasdaq Composite dropped 278 points (-3.47%).
- While RDFN did slide, we saw the market defend a recent resistance pivot at $18 as support.
- This is a good sign.
- If the market can hold RDFN above $18 throughout this week, I think there will be a good chance that it breaks $20.
- In this scenario, I would anticipate upside to $24 (2019-high) and then the next resistance pivot at $26.