Australia's Employment Data and the Reaction in AUD/USD
Today (8/17) we saw Australia's employment data for July. It was a better-than-expected reading, showing 27.9K jobs added versus economists' forecasts around 19.8K. The previous reading for June was revised up to 20K from 14K. The unemployment rate ticked lower to 5.6% from 5.7%.

On surface this looks good. But the details show that the increase was mainly from part-time jobs. As noted by Reuters, "Full-time jobs stumbled in July after a strong run recently. They still account for almost all of the gains in employment this year."
The market was initially bullish on the AUD after the release of the jobs data but seemed to have lost its steam by the start of the 8/17 US session. Let's take a look at the AUD/USD.

AUD/USD 4H Chart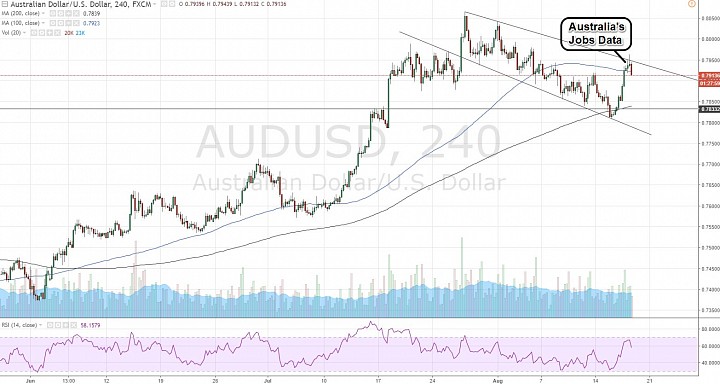 (click to enlarge)
Prevailing Trend:
- Note that the prevailing trend is bullish, until price hit 0.8050. Then it started to consolidate, but still within the overall context of a bullish market.
- AUD/USD has been consolidating in a falling channel, bouncing up sharply this week from channel support.
- Even before the jobs data, price was pressing at the channel resistance.
- The initial reaction after the jobs data was a nudge close to channel resistance, but after briefly cracking this resistance, AUD/USD retreated immediately.
- We can see that this was a failed bullish attempt, and price is already back below where it was before the jobs data came out.
Crossroad:
- On one hand, the prevailing trend is bullish. On the other, the current short-term mode in August is bearish.
- AUS jobs data failed to provide AUD/USD a lift to break above the channel resistance. This suggests bears are still in charge.
- But what about the recent upswing this week? Should we ignore it?
USD's pull:
- I think the market's speculation of the USD will provide AUD/USD some direction. For example, the retreat from 0.7950 is due to USD-strength across the board during the 8/17 Asian-European session.
- I think based on the current reaction in AUD/USD, USD-bulls are still in control of the short-term mode and preventing AUD bulls from breaking out of the pair's recent consolidation.
- So, I think AUD/USD will continue to slide this week.
- But if price turns back up from 0.7850 instead of head towards 0.78, then a subsequent test of the channel resistance might break through.