UA - buy after this dip
Under Armour has been in a free fall since the end of April due to the lost of 2 key execs - Chief Merchandising Officer Henry Stafford and Chief Digital Officer Robin Thurston. The market obviously did not like the shakeup and faded UA from almost 48 to almost 38 as we can see in the daily chart.

Here's an article from last week: Here's Why Under Armour Shares are Sliding

UA Daily Chart 5/9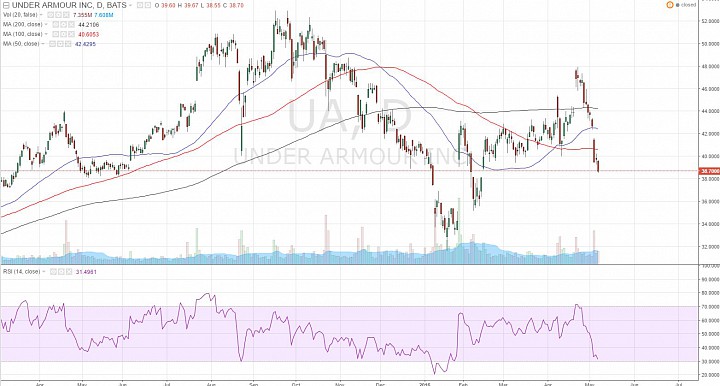 (click to enlarge)

I think we can buy on this dip. In my opinion, there is still some short-term downside risk, but if I see price stalling and showing bullish divergence with the RSI, I would consider a buy with a medium-term target back towards 48-50, and a long-term target of 100 (in about 2 years). I am simply projecting the fact that after the past couple of splits, price of stock doubled from 50 to 100 in about 2 years.

We still have to gauge how the market feels about UA's potential after the change of guards at the leadership level. Leadership is important, and we might see some choppiness in the short to medium-term. But, I am not convinced that this change will change the course of UA, which has been bullish since it started. 

After some growing pains, I think UA is a prime candidate to buy on a dip. Let's stalk this decline and get ready when the selling gets exhausted.