Credit Suisse (CS) Breaking Support Factors
The price action of Credit Suisse (CS) shares is threatening a bearish continuation as it breaks some support factors, suggesting a reversal from bullish correction back to a downtrend.

Credit Suisse (CS) Weekly Chart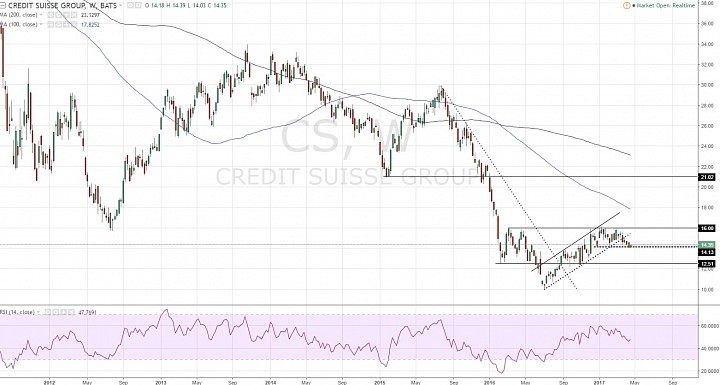 (click to enlarge)

Consolidation:
- The weekly chart shows that price has been bearish going into 2016.
- But price action ended up consolidating in 2016, rallying in a rising channel.
- Price flattened in 2017 and broke below the rising channel in late March.
- It is now threatening to break a range support, which would revive the bearish outlook.

Downside Risk:
- If the market is actually forming a price bottom, we still have downside risk towards 12.50.
- If the market is still bearish, we can anticipate a retest of 10.00.
- I would respect 10.00, because there is a chance the market has turned sideways in the long-term, because price was able to climb back to the 16.00 pivot at the end of 2016.
- At this point, a break above 15.00 would be needed to shelve the downside risk, and open up a bullish outlook.