Credit Suisse (CS) in a Bullish Slingshot
Shares of Credit Suisse (CS) has been in some what of a long-term bearish trend. The latest swing came in 2015 into mid-2016, with price falling from around 30.00 in July 2015 to about 10.00 in July 2016. 

Credit Suisse Daily Chart 12/7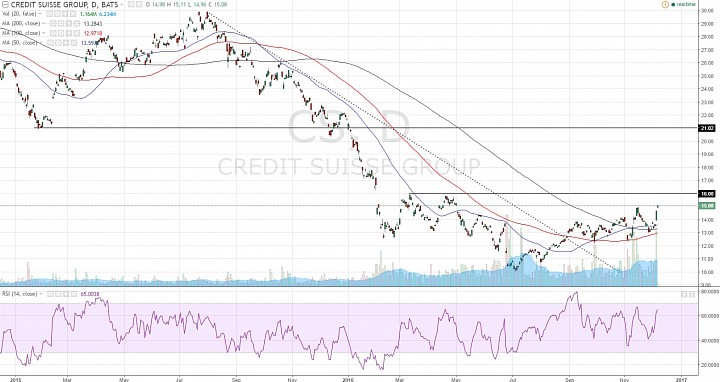 (click to enlarge)

Bullish Reversal Signals:
- The daily chart shows us that price has found support at 10.00, and has since broken above a falling trendline.
- Price has also broken above the 200-, 100-, and 50-day simple moving averages (SMAs). Furthermore, price has tested these SMAs is bouncing off of them.
- This crossover and bounce off the SMAs is called a bullish "slingshot" signal. 

Upside:
- This bullish reversal signal doesn't do anything to the long-term downtrend, which is still intact. 
- But, it could develop into a short to medium-term bullish correction. 
- The first key resistance will be the 16.00 pivot. 
- I think a break above 16.00 can open up the 20.00 handle. 
- We should limit the upside to 21.00, which was the 2015 low, and previous support pivot that might turn into resistance.

On the other hand, a break below 13.00 would continue the bearish outlook. 
Here's the latest news on Credit Suisse: Credit Suisse Rises on Outlook Caution; Costs Cuts