Silver (XAG/USD) - 7 Signs Before Last Week's Surge
2016 has turned out to be a year of bullish reversal for silver (XAG/USD). Let's take a look at the daily chart to review the bullish reversal signals we saw before last week's surge that brought price from about 17.50 to crack 21.00. 
XAG/USD Daily Chart 7/4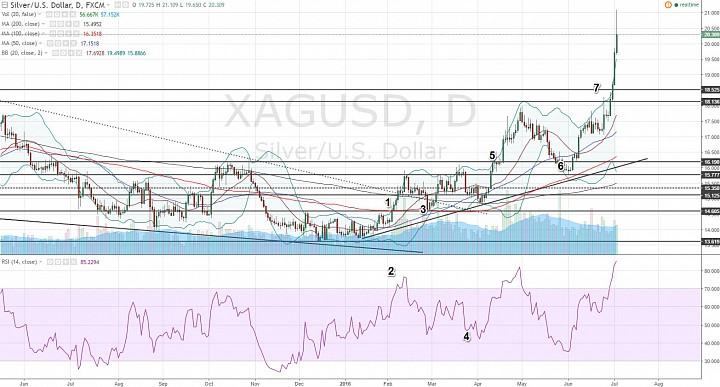 (click to enlarge)
7 Steps: Let's take a look at the path to last week's breakout which puts silver at highs from July 2014. 
1) A rounded bottom that took 3 months to form is finally broken in February. 
2) The RSI pushes above 70, showing initiation of bullish momentum.
3) Price came back and tested the rounded bottom. It bounced off of the resistance, treating it as support. This is a classic breakout confirmation,.
4) The RSI held above 40, which shows development of bullish momentum. 
5) After a couple months of consolidation, price started to pop, further confirming a bullish reversal. (The RSI came back up above 70, reflecting continuation of bullish momentum). 
6) A test of a rising trendline and the previous consolidation resistance showed that bulls are still in control despite losing some momentum. 
7) Finally, silver broke the 2015 high as it crossed 18.50. 
The 2014 is 22.16 and is in sight for the current surge. However, as the RSI pushes above overbought area I think silver might start consolidating gas it approaches 22. 
Fundamentals: One reason for the surge could be risk-aversion, which favors risk haven assets such as gold and silver. Silver Tops $21 for 1st Time Since 2014 as Investors Seek Haven (Bloomberg). Another factor that could be keeping silver buoyed is that there is a flux buyers in China, who are also seeking risk haven. China Buyers Drive Silver Prices Higher (WallStreet).