Planning to Go Long on Gold (XAU/USD) at $1250 per Ounce with a Target of $1360
Gold $XAUUSD price has been rallying sharply after finding support above $1160 an ounce back in August 2018. I think there is still upside towards the $1360 level, where price will meet the 2017-2018 highs/resistance levels. But for now, we might see a pullback first. If gold price does retreat, I would love to go long around $1240/ounce.
XAU/USD Daily Chart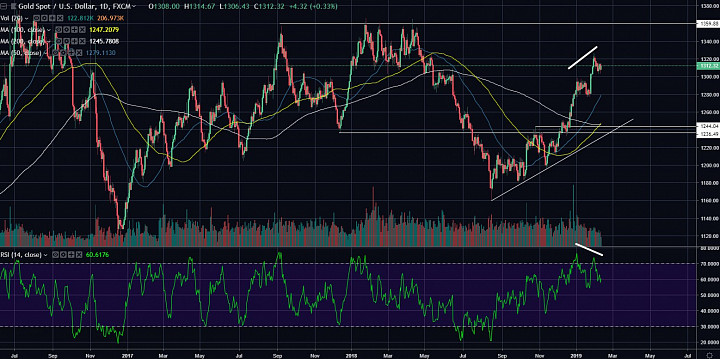 (click to enlarge)
Bearish Divergence:
- Gold has recently developed a bearish divergence between price and the RSI on the daily chart.
- This suggests the rally might be stalling. Whether it stalls sideways or pulls back lower is up in the air.
- If it goes sideways I would need to see some support levels to play off of. But for now, I will assume we see a pull back.
- If there is a pullback, I would anticipate support in the $1230-$1250 area, maybe even the $1260 area.
Support:
- Around $1240, there is a support/resistance pivot area. If price falls to this area, it would ALSO be testing a rising trendline.
- Finally, this area involves the 200-day simple moving average, another factor to consider as support.
- If the RSI is around 40 while comes back to this area, I will strongly consider going long.
Trade Planning:
- I am looking to average an entry around $1240,or $1250 (maybe orders at $1260 and $1235).
- 1190 would be a viable stop. It's wide enough to avoid some short-term volatility.
- With a target at 1360, the reward to risk is around (1360-1250) : (1250-1190), or 110:60. It's not the most attractive reward to risk. But I think having this wide stop gives a lot of breathing room for this trade to work out. (That is always the trade off isn't it - good reward to risk vs. good probability).
- The time horizon for this trade would be medium-term, and could take up most of the year.