EUR/GBP Breaks a Key Rising Trendline
EUR/GBP has been in choppy waters after a mostly bullish year in 2016. As we can see in the weekly chart, price rallied from a low of 0.6925 in 2015 to just above 0.9200 in Oct. 2016.

EUR/GBP Weekly Chart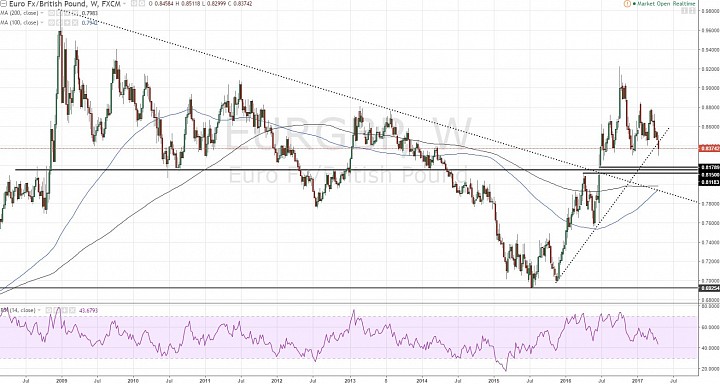 (click to enlarge)
Rounded top and a Broken Trendline:
- As we can see on the weekly chart above, price has retreated from the high around 0.92.
- We can say there is a rounded top. 
- As price completes this rounded top, it is also breaking below a rising trendline. 
Bearish Correction:
- Relative to the bullish price action from July 2015 to October 2016, The bearish price action since October 2016 should be considered a bearish correction. 
- This means the dominant trend is still bullish in the long-term, though we have to expect some more short-term to medium-term bearish outlook.
Support:
- The weekly chart shows a cluster of support/resistance pivots between 0.8118 and 0.8178. 
- Basically, we should anticipate support around 0.8150. 
- We should also anticipate the RSI to turn up as it tests 40. If price indeed stalls around 0.8150 and the RSI turns up from around 40, looks for a bullish swing.
- The first key target for this bullish swing will be the 0.84 pivot. If the market respects 0.84 as resistance, it would likely still be in a bearish correction mode. 
Short-term to Medium-term Outlook:
- We noted the bearish outlook towards 0.8150 and the support around this pivot.
- But as we see on the daily chart below, the 0.83 handle is also a common support.
- The RSI has been oscillating between 30 and 70, and is now around 30. 
- We can anticipate some support at 0.83. 
- However, the 0.85 and 0.86 pivots are critical resistance levels if the EUR/GBP is going to extend the bearish correction.
- If price fails to push back above this area while the daily RSI fails to push above 60, then we can have more confidence of the bearish extension towards 0.8150.