Apple (AAPL) Rallies Sharply Off "Better-Than-Feared" Earnings
The market was tentative heading into the 1/30 session as Apple released its Q1 earnings report (its 1st quarter is one that ended Dec. 29, 2018).
It was a mixed report. While earnings per share rose to a historic high of $4.18, worrying trends of declining iPhone demand surfaced.
Here is the press release from apple.com:
Services, Mac and Wearables Set New All-Time Revenue Records
EPS Reaches All-Time High at $4.18
Cupertino, California — January 29, 2019 — Apple today announced financial results for its fiscal 2019 first quarter ended December 29, 2018. The Company posted quarterly revenue of $84.3 billion, a decline of 5 percent from the year-ago quarter, and quarterly earnings per diluted share of $4.18, up 7.5 percent. International sales accounted for 62 percent of the quarter's revenue.
Revenue from iPhone® declined 15 percent from the prior year, while total revenue from all other products and services grew 19 percent. Services revenue reached an all-time high of $10.9 billion, up 19 percent over the prior year. Revenue from Mac® and Wearables, Home and Accessories also reached all-time highs, growing 9 percent and 33 percent, respectively, and revenue from iPad® grew 17 percent.
"While it was disappointing to miss our revenue guidance, we manage Apple for the long term, and this quarter's results demonstrate that the underlying strength of our business runs deep and wide," said Tim Cook, Apple's CEO. "Our active installed base of devices reached an all-time high of 1.4 billion in the first quarter, growing in each of our geographic segments. That's a great testament to the satisfaction and loyalty of our customers, and it's driving our Services business to new records thanks to our large and fast-growing ecosystem."
"We generated very strong operating cash flow of $26.7 billion during the December quarter and set an all-time EPS record of $4.18," said Luca Maestri, Apple's CFO. "We returned over $13 billion to our investors during the quarter through dividends and share repurchases. Our net cash balance was $130 billion at the end of the quarter, and we continue to target a net cash neutral position over time."
Apple is providing the following guidance for its fiscal 2019 second quarter:
revenue between $55 billion and $59 billion
gross margin between 37 percent and 38 percent
operating expenses between $8.5 billion and $8.6 billion
other income/(expense) of $300 million
tax rate of approximately 17 percent
Apple's board of directors has declared a cash dividend of $0.73 per share of the Company's common stock. The dividend is payable on February 14, 2019 to shareholders of record as of the close of business on February 11, 2019.
From Apple Reports First Quarter Results (apple.com)
It is important to note that this report was below previous guidance, and therefore has adjusted forward guidance much lower for the top line:
Apple is providing the following guidance for its fiscal 2019 first quarter:
revenue between $89 billion and $93 billion
gross margin between 38 percent and 38.5 percent
operating expenses between $8.7 billion and $8.8 billion
other income/(expense) of $300 million
tax rate of approximately 16.5 percent before discrete items
From Apple Reports Fourth Quarter Results (previous earnings press release from apple.com)
Here's what some analysts are saying as reported on Seeking Alpha:
Analysts largely had a "better than feared" reaction to Apple's (NASDAQ:AAPL) earnings report, which had some of the weakness priced in thanks to the preannouncement revenue cut earlier this month.
Morgan Stanley (Overweight): "Importantly, Apple made investors feel better about several recent debates - 1. weaker iPhone demand, 2. gross margin risk, and 3. Services growth deceleration."
JPMorgan (Overweight): "Although yesterday's announcement will do little in terms of addressing some of the medium-term concerns investors have relative to the drivers of revenue growth as the smartphone cycle matures, we believe book-ending the downside on volumes will help in driving investor focus back to the Services opportunity."
Citi (Buy rating) notes that Apple isn't just a Services company but rather "an IT Hardware product company with great services which are attached to Apple products."
Citi: "We recognize there are no immediate positive catalysts for the stock which is fine for a stock trading at a valuation of 13x PE or 11x PE excluding cash."
From Analysts on Apple Q1: better than feared (seekingalpha.com)

AAPL Daily Chart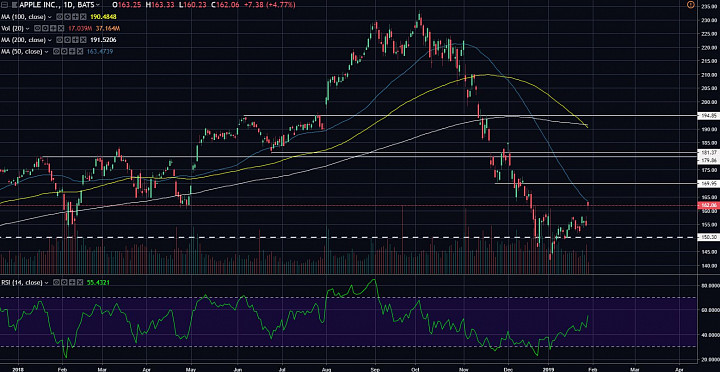 (click to enlarge)
Still Bearish Structure:
- The market reacted positively to the earnings report.
- As the seeking alpha headline pointed out, this is not an strong earnings report, but it did shed some fears of even worse numbers.
- Instead, it gave a sense that the problems were contained and that the different business lines are healthy outside of iPhone numbers.
- The thing is, AAPL still has an overall bearish structure since October, and I think this report is not enough of a catalyst to turn things around, although it might be able to limit further downside.
Support/Resistance, Volatility:
- After the sharp sell-off in AAPL shares since October, I think the "better than feared" narrative is on point.
- But if this is the reason the market is rebounding, then the market will likely fade this rally.
- I think there is a good chance AAPL wills struggle to push above the $170 area.
- This was a previous support pivot. The RSI will likely be around 60. A bearish market will likely fade AAPL here.
- The downside however might be supported above $140, but I still think there is a possibility of retesting the previous resistance pivot in the $134-$135 area as support. (See weekly chart).
- Essentially, based on the current overall market volatility, I am looking at resistance at $170 and support from $134 to $140. Note that the 200-week simple moving average (SMA) is right above $140, giving more reason to anticipate support around $140.
- But if the market gets a bit more volatile (ViX jumps back up), I can see AAPL testing $180 resistance. But more likely, high volatility would occur in a bearish market, in which case, I think there is still downside towards $115-$120 area and a rising trendline around that price range.

AAPL Weekly Chart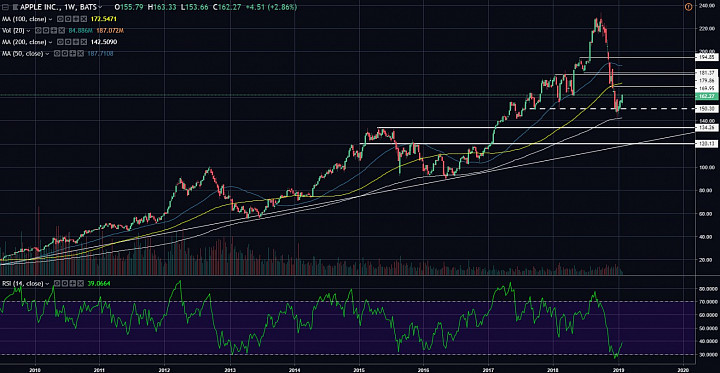 (click to enlarge)
The CBOE Volatility Index $VIX shows us the fact that the market has calmed down a lot since late 2018. We are back to "normal" volatility. This is cyclical, so after a period of low/volatility, we will likely see VIX spike. Usually when the VIX spikes, its a bear market, because statistically, bear markets have greater volatility clusters.
VIX Daily Chart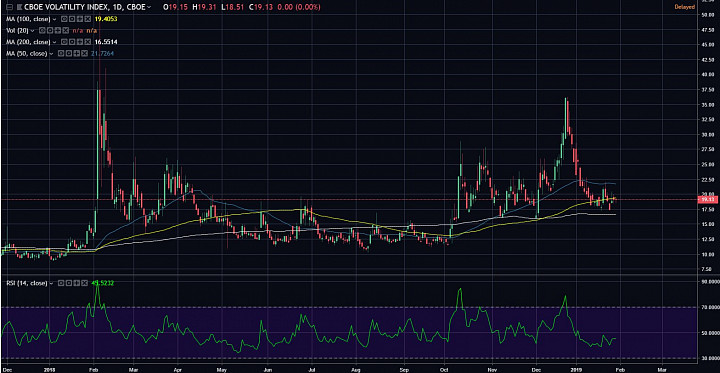 (click to enlarge)