AUD/USD Finds Support Just Above 0.6825 To Key Resistance Just Above 0.70
We recently noted that $AUDUSD was maintaining a bearish outlook with the 0.6825 area in sight. We also anticipated support here. Both outlooks materialized as price found support just above 0.6825 and is now pushing towards 0.70, above which will be a key resistance area.
AUD/USD Daily Chart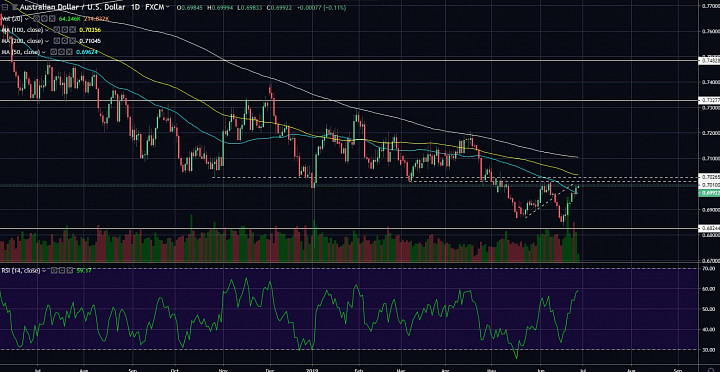 (click to enlarge)
Bottom Attempt:
- While price did make a lower low in June relative to the one in May, we can still chalk this up as a double bottom attempt.
- The key resistance remains in the 0.70-0.7030 area.
- Actually, the 200-day simple moving average (SMA) is around 0.71 and also presents a key resistance.
- Furthermore, the RSI is around 60 again. Note that it has been holding under 60, which reflects maintenance of the prevailing bearish momentum.
- If these patterns (RSI under 60, lower highs, price under moving averages) break, we might be looking at a bullish reversal.
- This would likely be a USD story as we are seeing a possible end to the strong USD cycle.
- We are already seeing this materialize in USD/JPY, which broke below a key support around 108. If price can hold it under 108.50 after a pullback, we can see USD/JPY slide down towards the 104.55 support area from 2018.
- I think there is a good chance that AUD/USD has found a bottom. If price climbs above 0.7010, it would be making a higher high.
- If it then establishes a couple of higher lows and another higher high, we should gain confidence of the bullish outlook.
- A bullish outlook would put the 0.73 area (2019-high) in sight.