Bank of Japan Maintains Monetary Policy; Raised Economic Assessment; a Look at USD/JPY
The Bank of Japan (BoJ) concluded its monetary policy meeting and voted to hold the benchmark interest rate at -0.10%. This was widely expected. According to CNBC.com, "The BOJ raised its economic assessment. It increased its real gross domestic product (GDP) growth forecast for the 2017-18 fiscal year to 1.6 percent from the 1.5 percent projected in January. But it lowered its core consumer price index (CPI) growth forecast to 1.4 percent from 1.5 percent in the same period."
In terms of implication for future monetary policy, I don't think this week's meeting moved the needle. I think there is still a long period of loose policy. GDP growth forecast improved, but barely, and only to 1.6% a year. Inflation is under the 2.00% target and is moving away further. 

Indeed, the market did not have much love for the Japanese Yen other than an initial JPY-bullish reaction. For example, take a look at the USD/JPY.

USD/JPY 1H Chart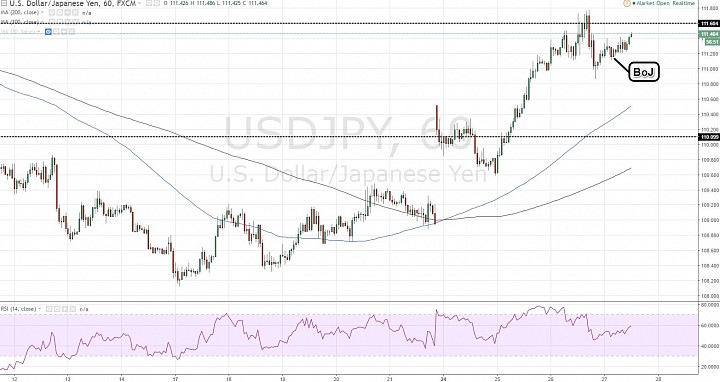 (click to enlarge)

Bullish Swing:
- USD/JPY has been on a bullish trend in the short-term, swinging from a low of 108.13 mid-April to almost 111.80 this week.
- It has broken a resistance around 110 and another around 111.60. 
- The pair recently retreated after cracking the 111.60 resistance, but rebounded from around 111.00. 
BoJ reaction:
- The initial JPY-strong reaction was quickly reversed, and price is already back above the high heading into the BoJ announcement.
- The followup reaction suggests that bulls are still in charge.
Monitoring Key Levels:
- While bulls are in charge in the short-term, it is still trying to reverse a medium-term bearish mode that has dominated price action in 2017. (see on daily chart)
- On the daily chart, we can see that just ahead, as price nears 112.60-113.00 area, price will met a falling trendline and a previous support pivot area. These are resistance factors, especially with the RSI around 60 after tagging 30. 
- I think there is a good chance USD/JPY is developing a bullish reversal that might continue the uptrend we saw in Q4 of 2016.
- Still we should anticipate some pullback from this 112.60-113 area. If the market is indeed bullish USD/JPY should then find support around 111.00 and continue the upswing. This would be a bullish confirmation.
- At this point, a break below 110 will be needed to revive the bearish outlook.