Cronos Group Inc. (CRON) Consolidating Above Key Support
In March, we noticed topping price action in shares of Cronos Group $CRON.
Cronos Group Inc, (CRON) Looks "Toppy"
This price top was completed after a disappointing earnings report.
Market Fades Cronos Group Inc. (CRON) After Underwhelming Earnings and Multiple Downgrades
We noted that if CRON does start falling from this price top, we can anticipate support around $14. A couple of months later, we are looking at CRON consolidating right above this $14 pivot.
CRON Daily Chart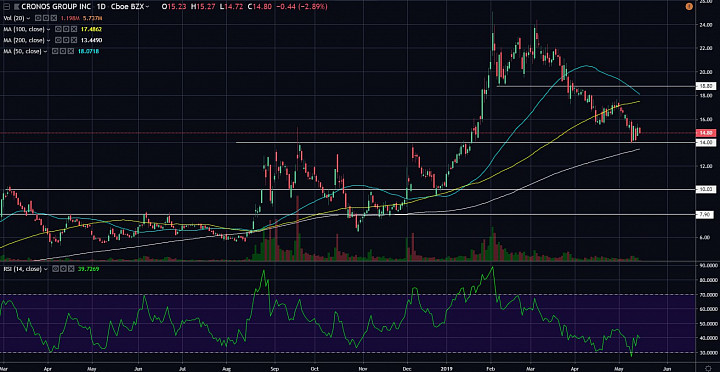 (click to enlarge)
Support at $14
- The daily chart shows that the market has indeed respected $14 as support over the past few sessions.
- This holds price above the 200-day simple moving average (SMA), and above the previous consolidation area.
- Thus, holding above $14 is a sign that the overall market is still bullish despite the short to medium-term correction.
- If the overall market contraction is mostly done, then CRON has a chance to establish an anchor here at $14 and at least return to the $18-$19 area.
- On the other hand, if risk aversion continues to grip the overall market, and we see CRON break below $14, don't be surprised if it revisits the $10 psychological level and support/resistance pivot.
- Therefore, I am considering a small position around $14 with a tight stop and target of $18.
My Strategy:
- Because of how speculative and potentially volatile this name is, I would rather look at CRON around $10.
- I would like enter at a level where a 100%-gain in a year is possible without reaching the previous highs around $24 because those highs might be based on hype.
- Around $10, I would plan an exit at $20 and forego a stop. This name would constitute only 1% of my portfolio. (I target 10%-15% speculative, high risk names - 10% now because I have been rotating out, targeting 15% by the time the overall market looks bullish again.)