Snap Inc. $SNAP Expected to See User Base Decline; I am Waiting for $7.50-$8.00 per Share
Marketing research firm eMarketer is forecasting a user base decline for Snapchat in 2019.
" In 2018, Snapchat had 79.7 million users, but eMarketer says that number will fall by 2.8% down to 77.5 million users in 2019. The firm also says Snapchat will stay below its 2018 user peak for at least the next four years. Matter of fact, between 2019 and 2023, eMarketer forecasts that Snapchat will only add 600,000 new U.S. users..." (Fast Company)

With Instagram seemingly winning the battle against Snapchat, SNAP Inc. has been trying to pivot to the gaming space. Here's a promotional youtube clip:
I think it is smart that they see the writing on the wall, and are looking for other areas to compete. Execution will be key, and will require a lot of integration of key technological players (I mean companies i.e. app developers, not the users) into its development. In other words, Snapchat needs to build an resilient ecosystem or it will always be second fiddle to bigger companies like Facebook.
The prospect of new business growth can be see in the more than 100% gain since the December low around $5.00 to the recent high around $12.50. But, I think there is a good chance the market will pull back from this hype until there are more positive data about this gaming venture panning out.
SNAP Daily Chart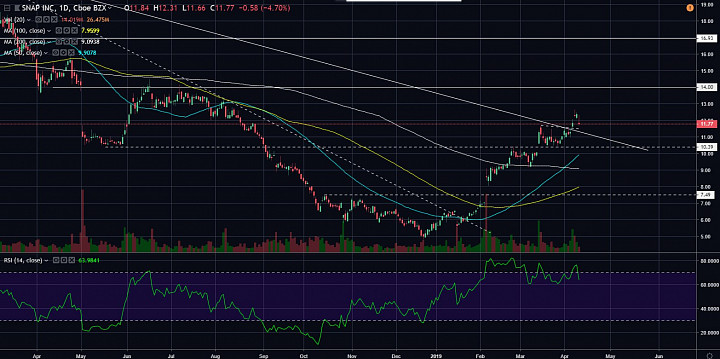 (click to enlarge)
Strong Rally; Support:
- As we can see on the daily chart, the rally since December has been tremendous.
- It recently pushed above resistance around $11.80.
- It looks like the eMarketer report is giving the market some doubts.
- Meanwhile, I think this $10-$11 area will be a key support area in the short-term.
- This area could be a key anchor for a bullish outlook. But I am just not that bullish yet on SNAP.
Anticipating a Deeper Pullback:
- I don't want to chase the rally because SNAP has not shown positive earnings yet.
- I am not saying we will need to see positive earnings before SNAP turns bullish, but I still think it is too early to make any significant long-term investment into SNAP.
- Because of the uncertainty, I would rather see SNAP at $7.50-$8.00 before considering even a small position.
- This is because while I think there is a good chance SNAP has bottomed in late 2018, I still think it will take some time before it will become bullish IF it does.