McDonald's (MCD) Anchoring Into a Bullish Trend?
We recently saw some bullish signs in McDonald's $MCD price action.
McDonald's (MCD) Looking Up in This Beaten Market
Since this previous analysis, we saw MCD retreat.
MCD Daily Chart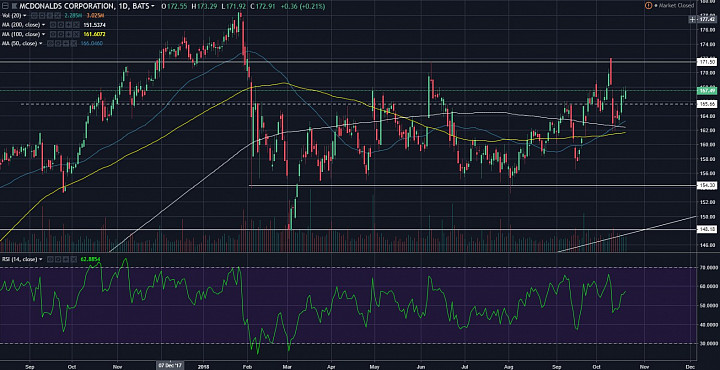 (click to enlarge)
Testing Moving Averages:
- The fact that price respected the moving averages as support suggests a bullish outlook.
- However, this assessment might be premature. If price can reach back up to the $171.50-$172 area, I would be much more confident of the bullish outlook towards at least the 2018-high of 178.70.
- Because the prevailing trend going into 2018 was bullish, and 2018 has been a period of consolidation, if price does come up to the 2018-high, it is likely to continue the prevailing trend and break it into higher highs by or in 2019.
- If my anticipation is incorrect and price slides back below $162, then the pressure is back on common support above $154 and then the $148-$150 area.