After Fed Holds Rate, Market Pricing in Potential Rate Cut by Fading USD/JPY; BoJ up Next
Here's a quick summary from CNBC regarding today's FOMC announcement:
The Federal Open Market Committee votes 9-1 to keep the benchmark rate in a target range of 2.25% to 2.5%.
The action sets up a possible confrontation between Fed Chairman Jerome Powell and President Donald Trump, who has been pressuring the Fed to cut rates.
The Fed drops the word "patient" in describing its approach to policy.
The central bank also leaves the door open somewhat to future cuts.
Eight members favor one cut this year, while the same number votes in favor of the status quo and one still wants a rate hike. Powell says in a press conference some officials believe the case for accommodation has "strengthened."
---
Most market watchers expected the Fed to hold. At the moment, the average expectation is that there won't be a rate cut in 2019. However, many will focus on the one dovish statement from FOMC chairman Jerome Powell: "Many participants now see the case for somewhat more accommodative policy has strengthened"
The USD/JPY fell heading into the FOMC announcement, and continued to be pressured after the press conference:
USD/JPY 1H chart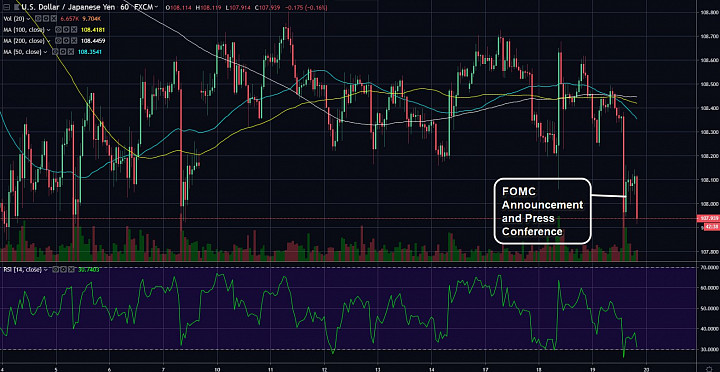 (click to enlarge)
Cracking the 108 Support:
- We recently saw USD/JPY come down to the 108 support and suggested it wouldn't hold long: Will USD/JPY Hold the 108 Support Area? Probably Not For Long
- Price has not clearly broken below 108 yet. We should see if price can clear below 107.50 by the end of the week.
- If so, we might see further downside towards the 104.60 area.
- However, I think price should start finding support around 105. The market is pricing in a rate cut, and it might over extend USD-weakness.
- After all the Bank of Japan is also dovish. Here's a quick excerpt from reuters:
TOKYO (Reuters) - The Bank of Japan is widely expected to keep its ultra-loose monetary policy unchanged on Thursday but signal its readiness to ramp up stimulus if global risks threaten the country's economic expansion, nodding to the widening fallout from the U.S.-China trade war.
- In fact, if price fails to fall below 107.50 and climbs back above 108.25, we should consider the 108 area maintained.
USD/JPY Daily Chart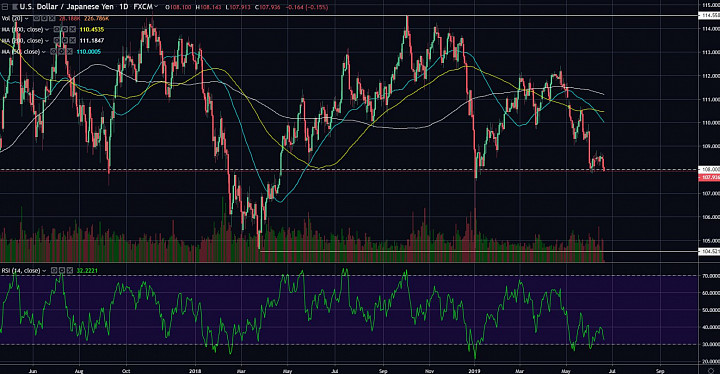 (click to enlarge)