Key Price Development in Merrimack Pharmaceuticals (MACK) for a Short-term Recovery Swing
Merrimack Pharmaceuticals $MACK was bearish in 2018 and has been in a long bearish trend since 2015.
MACK Weekly Chart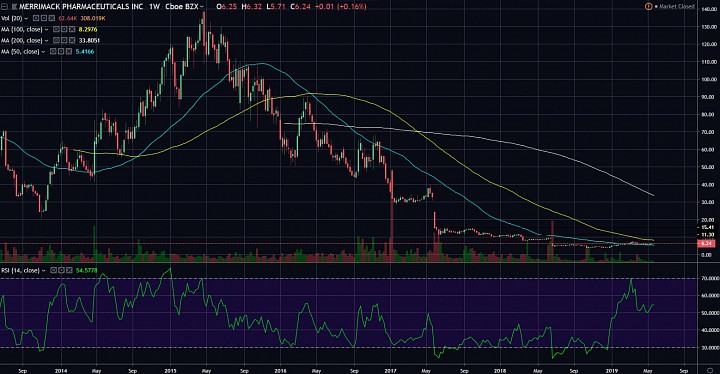 (click to enlarge)
Bearish Trend:
- We can see from the weekly chart that price has fallen tremendously since 2015.
- It might look like price action has flattened since 2017, but the decline has actually been worse. For example, price fell from almost $140 to $30 from 2015 to mid-2017. That is an almost 80% dip.
- Then it fell from $30 to a low of $4.00 in 2018.That is more than 86% dip.
- Now that we have established the long-term trend, we should probably be cautious when looking at a bullish outlook.
- Let's get down to the daily chart, where we DO indeed see a possible short-term rally ahead as price appears to be in bullish reversal.
Bullish Signs:
- Price has been rebounding since cracking $4.00 in October 2018.
- Note that price has come up above the cluster of moving averages, mostly importantly the 200-day SMA.
- When price came up to $7.50, a previous support, it retreated. This shows that the market is still bearish.
- However, on the way down, price held above the 200-day SMA. Also, the RSI didn't fall back below 30.
- These are signs that the market MIGHT be developing a short-term price bottom indeed - that the bullish recovery might have another leg. Again, I wouldn't go against the long-term downtrend, so I am only entertaining the possibility of one more push, maybe towards $10.00.
- If price can hold above $5.50, there is a chance. But a break below $5.50 and then the 200-day SMA will likely spell the end of the recent recovery. Then, the prevailing bearish trend might take over again.
MACK Daily Chart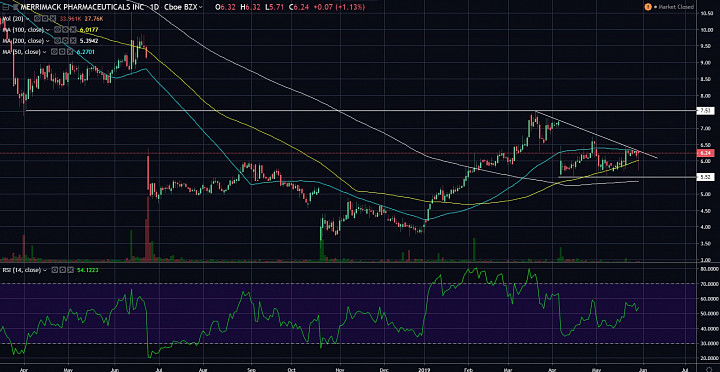 (click to enlarge)