AUD/NZD in a Bearish Correction: a Look at Support Levels
It has been a choppy year for AUD/NZD. From July to September, there was a bullish swing from about 1.0370 to about 1.1145. Last week, we noted that AUD/NZD completed a double top, which hinted at a subsequent bearish correction. We still needed to see price break below a rising trendline, whish is what happend this week.

AUD/NZD Daily Chart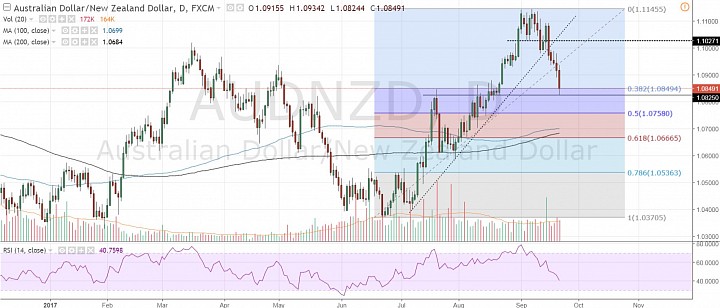 (click to enlarge)
Bullish Scenario:
- If AUD/NZD is bullish, the current level around 1.0825-1.0850 should provide support. Plus the daily RSI should stay above 40.
- Both of these scenarios are being tested right now, and we will have more clues by next week.
Key Support:
- The thing is, the optimal reward to risk for this buy on a dip strategy would be around 1.07 because if price falls below 1.0660, the prospect of a bullish market will not look good.
Basically, AUD/NZD could have entered a bullish market, and an idea place to buy on the dip might be around 1.07. However, if the market is indeed bullish, there is a higher chance price will turn up around 1.0825-1.0850 in stead of reaching back to 1.07.