Chubb Limited (CB) - Bears Back in Control with Downside Risk to $120
A couple of weeks ago Chubb Limited $CB was still in a bullish swing, but found sellers in a key resistance area that involved a falling trendline and the 200-day simple moving average (SMA).
Chubb Limited (CB) Respects Resistance and Maintains Bearish Bias
We were bearish 2 weeks ago, but price action essentially traded sideways and even pushed slightly higher. However, the overall structure is still bearish mostly because price failed to push above the 135.55 resistance from November 2018. At best the market is sideways, so the assessment is that CB is bearish-neutral.
CB Daily Chart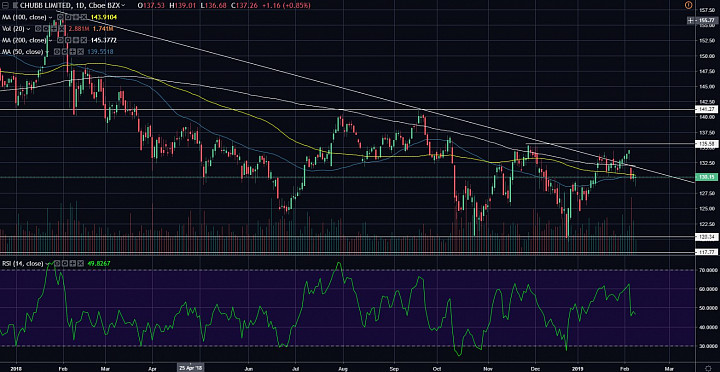 (click to enlarge)
Lower Highs, Lower Lows:
- Looking at the daily chart, we can see that there is still this pattern of lower major highs and lower major lows.
- Furthermore, price has been trading mostly below the cluster of 200-, 100-, and 50-day simple moving averages (SMAs).
- Because this is still the case, we are still going to respect the bearish potential of CB in February.
Bears Taking Over:
- As noted above, price has been sideways and even a bit bullish in the past couple of weeks. However, bears seem to be taking over this week as price was able to push below $130.
- It is still not clear yet because we still need to see FB close below $130 more clearly to confirm that bears are taking over.
- After all, $130-$131 area was a key support for the past couple of weeks, and is a support/resistance pivot going back to May 2018.
- A clear break below $130 would therefore open up the $120-$120.50 support area from October and December 2018.
- We can first anticipate support at and above $120, but if the overall market is contracting, we should not rely on it so much.
- Because the prevailing trend is bearish, we can even anticipate a lower low towards $110, especially if general stock market is risk averse.
Support Area:
- But if CB pushes towards $110, we should recognize that it is pushing into a key support/resistance pivot area.
- Therefore, while bears still control this market in the short-term, I can see the market starting to offer support around $110.
- Also if the weekly RSI falls below 30, we can start anticipate the bearish cycle to be over, especially because the prevailing long-term trend has been bullish.
- From there, around $110, I would anticipate a regression back towards the $128-$130 area, even if the market is NOT bullish.
CB Weekly Chart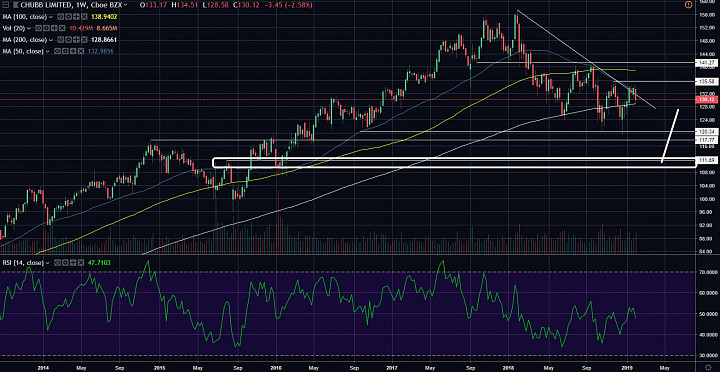 (click to enlarge)