Copper to See 3.00 in 2017?
Copper Prices have surged in October and November of 2016 before stalling at $2.75 by the end of the year. However as we can see in the weekly chart, price action still looks bullish as copper holds above $2.50. 

Copper Weekly Chart 1/11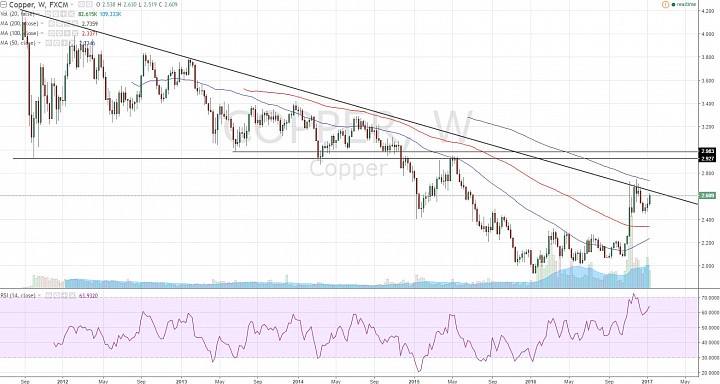 (click to enlarge)
Resistance Threatened:
- The weekly chart shows that price is currently held at the falling resistance that comes from the 4.20 high in 2011.
- This is a critical resistance, but there are reasons to believe it will break. 
- The rally that put price against the resistance is sharp and looks like it could still extend. 
- The RSI tagged above 70 for the first time, and suggests that the market has bullish momentum. 
- Price is already above the 100- and 50-week simple moving averages. A break above 2.75 will break the 200-week SMA as well.
Next Pivot:
- The next key resistance should be in the 2.90-3.00 area. 
- I think copper is in a bullish market, but will likely stall at or under 3.00 at least for a couple of months in 2017.
Financial Times has an article that explains the current bullishness of copper. Weak USD, China demand, and supply fear:
Copper gains on weaker US dollar and supply fears
Strong Chinese economic data also lend support
The price of copper rose to its highest level in a month on Tuesday, boosted by strong Chinese economic data, a weaker US dollar and concerns about supply.
Copper for delivery in three months on the London Metal Exchange climbed $165, or 3 per cent, to $5,755 a tonne, extending gains since the start of the year to almost 5 per cent, on news that China's producer prices had surged in December.
Over recent months copper, used in everything from wiring to power grids, has been the surprise package of commodity markets. After lagging behind other raw materials it rebounded at the end of last year, as investors started to pick apart assumptions about the outlook for the metal. It ended 2016 up 17 per cent, snapping three consecutive years of losses.
Investors are continuing to reassess the outlook for the metal, particularly on the supply side. Total copper mine production rose 3.8 per cent last year to 19.9m tonnes, according to consultants Wood Mackenzie. In part this was a reflection of increased output from Peru where several projects including Las Bambas successfully ramped up.
At the same time, there was a relatively low level of production outages across the industry last year. Commodity analysts build a "disruption allowance", typically around 5 per cent, into their models for copper to reflect the difficulty in extracting the metal.
(Full Article on Financial Times)