Netflix (NFLX) Has the $200 Area in Sight for Support
In October, we expected another bearish swing in NFLX towards $270. By now we know that it has fallen even further, dragged down by overall market aversion. Now, we should probably look for NFLX to fall to $200 where we can expect some support.
Netflix (NFLX) Maintains Bearish Momentum
NFLX Daily Chart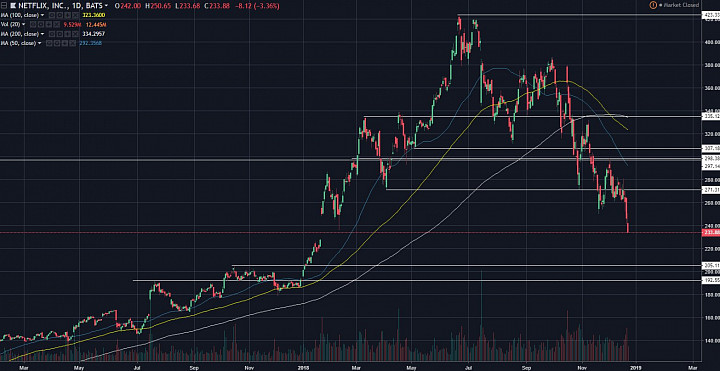 (click to enlarge)
Bearish Correction:
- What we see on the daily chart is a deep correction against the 2018 rally.
- In fact, we can expect the entire 2018 run up to be wiped out, if price does indeed pull back to $192 area.
- I think this $190-$200 area will provide some support.
- We should note that this is a conservative outlook relative to the extremely bearish environment we are in.
- The current price action is not about Netflix fundamentals.
- This is more about risk sentiment.
- And if the risk aversion we are seeing now eventually fades in 2019, NFLX should also find support.
- Otherwise, expect some further downside towards the $175, where price would be back to the 200-week simple moving average (SMA).
NFLX Weekly Chart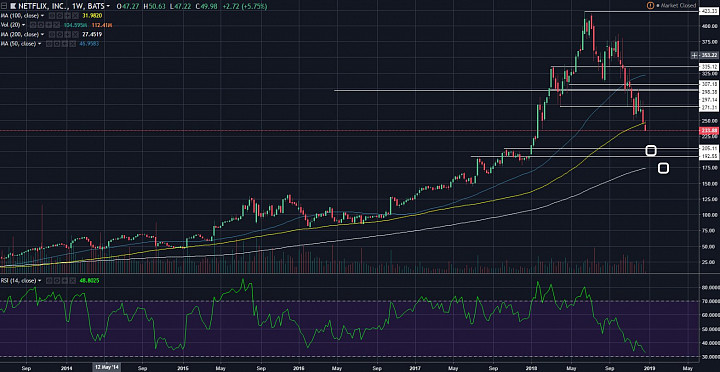 (click to enlarge)