Electronic Arts (EA) Opens up the $100 Mark as Target and Resistance
Electronic Arts $EA was in a bearish correction that wiped out 50% of its market cap. It fell from a high aroudn $150 in July 2018 to a low around $75 in December 2018. Price has since rallied back to $90 as we anticipated last week.
Electronic Arts (EA) Has Upside from $70 Towards $90
EA Daily Chart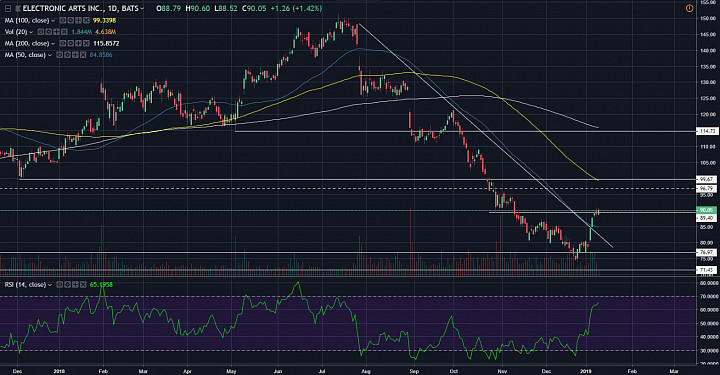 (click to enlarge)
Bullish Breakout:
- Price has broken above a falling trendline and cracked the support/resistance pivot at $90.
- The RSI has pushed above 60, which reflects loss of the prevailing bearish momentum.
- As price pushes through $90, $100 will become the next target as well as resistance.
- There is a support/resistance pivot area just under $100.
Scenarios:
- I think the overall market is still in a consolidation mode, but is now in a bit of a rebound.
- In this context, I can see EA continuing the current recovery towards the 200-day simple moving average, which would be aroudn $115.
- If price goes to $115, I would think start looking at the $75 low as a key low and anticipate a shift from a bearish correction to a flat consolidation.
- If price holds under $100 on the other hand, I would be more bearish on EA, and anticipate further bearish correction to take out the $75 low.