Another Bullish Breakout in Goldman Sachs (GS)?
Goldman Sachs $GS might have started this week with a bullish breakout.
GS Daily Chart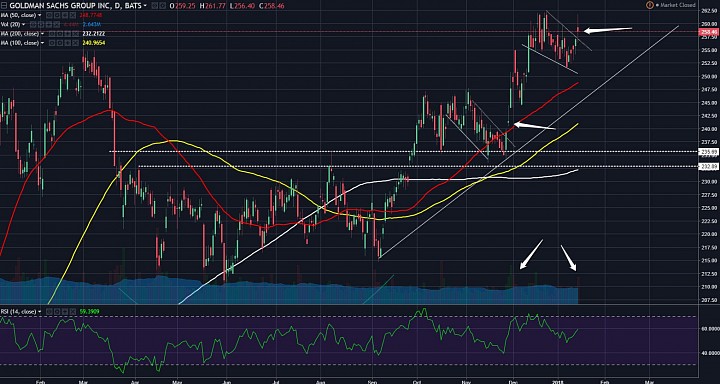 (click to enlarge)
Bullish Breakout:
- Price has been consolidating under $262.50.
- However, price jumped up above the consolidation pattern to start this week.
- Note that the breakout candle is similar to the previous breakout candle in late November.
- The volume is not as strong, but the fact is that GS is in a bullish trend and made a 52-week high at the end of the year when GS's share price tagged $262.50.
If wrong:
- If this breakout candle during the 1/16 session was a false breakout, I would not be surprised by another period of consolidation/correction that could bring price down to 247.50, which was the previous consolidation resistance.
- A break below that would also break below a rising trendline support, which would call for a re-evaluation of the bullish trend.
- Below $247.50, GS might be in another long period of consolidation/bearish correction.