Square Inc. (SQ) Opening Up the 50.25 Support Pivot
Square Inc. $SQ has been in consolidation since late 2018 when price retreated from the $100 area down to the $50.25 low before trading sideways. We can say that since late 2018, SQ is neutral-bearish. But because the long-term trend has been bullish, I think we can anticipate buying around the range support, or even a bit lower in the $48-$50 area.
SQ Daily Chart

(click to enlarge)
Range Support:
- We can see that there is a range forming. At least, the resistance has been consistently around $83.
- There was some common support around $58.50-$60 and SQ was holding above this support in August.
- However, price broke below this support during the week, and is likely opening up the next support pivot around $50.25.
- I think we can anticipate support here, or a tad lower around the $48-$50 area.

SQ Weekly Chart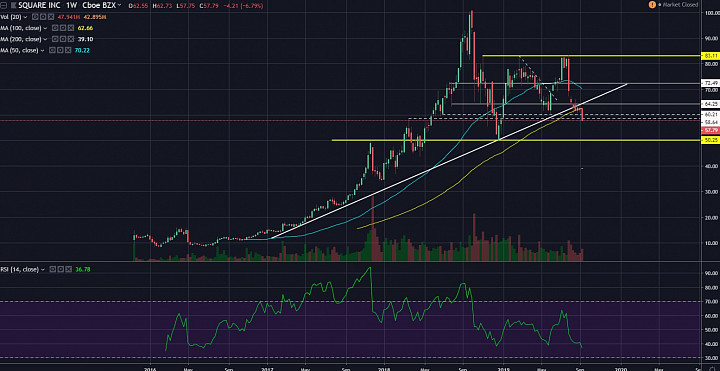 (click to enlarge)