Under Armour (UA): Buy-on-the-Dip? Assessing Reward to Risk
Recently, saw Under Armour (UA) stocks break above a recent consolidation range. Last week, the market faded this bullish breakout and price pulled back into the consolidation range. Let's take a look at the chart and assess the buy-on-the-dip scenario.

Under Armour (UA) Daily Chart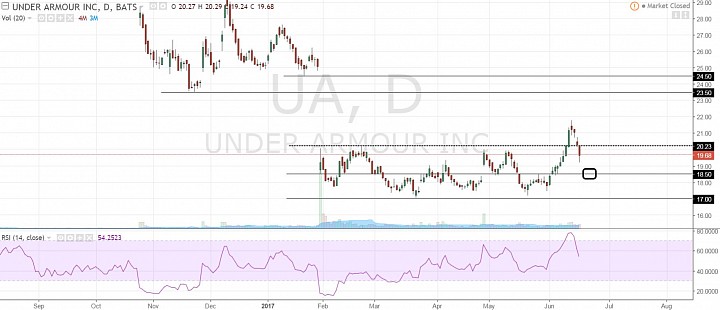 (click to enlarge)

Breakout and Pullback:
- Looking at the daily chart, we can see that the breakout pushed price almost to 22.00, but price has now retreated back below 20.
- If price can hold above 18.50, the bullish outlook would still be valid. Below 18.50, the bullish breakout a couple of weeks ago could be a false breakout.
- In the false breakout scenario, price should come down to test 17.00 with strong risk of breaking lower since the prevailing trend is bearish and a false bullish breakout would suggest that bears are still in charge.
- In the bullish outlook, we can see upside to the 23.50-24.50 area, which represent the support area of a previous consolidation range.
Reward to Risk:
- Let's say we set up a buy at 19.00 and a stop below 18.50 ie. 17.75.
- The risk is 6.6%.
- If the target is 23 (we are being conservative), the reward would be 21%.
- This is a pretty good reward to risk.
- But honestly, because the prevailing trend is still intact, a 3:1 reward to risk is not considered strong, but satisfactory.

Now just because the reward to risk is decent, it doesn't mean we should automatically buy. Unless, that's your purist strategy. This reward to risk should accompany your overall strategy and help you understand where a good place to buy might be.

Also, what if price does not reach back to 19, and basically hangs out around 20 before extending the bullish breakout.

A buy at 20 (stop at 17.75, and target at 23), offers less than a 2:1 reward to risk, unless you believe in the more aggressive target at 24.50. With the aggressive target, the reward to risk with a buy at 20 would be exactly 2:1.