Pandora (P) Price Action Looks Good for Being in a Bear Market
Pandora $P has been consolidating since it tagged $10 a share in September. It then went into consolidation/bearish correction mode, along with the rest of the market to round out the year. But through this correction, Pandora looked resilient.

Pandora (P) Daily Chart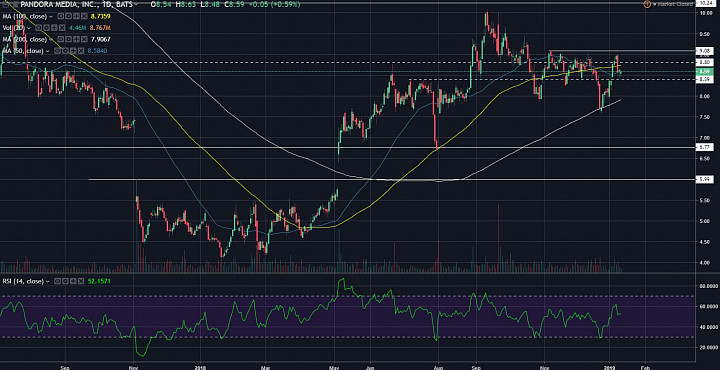 (click to enlarge)
Bearish Momentum vs. Strength:
- Since October/November, the momentum has been bearish as evidenced by the RSI falling 30 and holding under 60.
- However, price held above the 200-day simple moving average (SMA), which is a sign of strength.
- The entire market has gotten a bit volatile at the turn of the year and has been on a bit of a recovery swing - so has Pandora.
- It is possible that if the general equities market has flattened its bearish correction, names like Pandora could revisit their 2018 highs.
- In this case, Pandora has upside to $10, IF risk appetite can remain NON-BEARISH for a couple of months.
Resistance:
- However, $9.00-$9.10 remains a key common resistance. We saw a strong reaction last week - one that formed a bearish engulfing candle. Meanwhile, the RSI again held below 60.
- These are signs that we might get another bearish swing.
- However, if price gets to $8.00, I will be adding a light position (1/3 normal size)
- I want to save some dry powder in case we get another bear swing in the entire market, which would likely drag Pandora down into another low (below the Dec. 2018 low).
- I will have another 1/3 position size ready around $6.75, and a final 3rd around $6.00.
- Essentially, I would be averaging a tad under $7.00 IF price indeed comes down to $6.00.