Baidu (BIDU) Getting Dumped; Downside Possibly to $100
Baidu $BIDU has been struggling since its push into new all-time-highs in 2018. We recently warned that BIDU was turning bearish, and that $160 was a last line of defense before further pain.
Baidu (BIDU) Bearish Continuation Breakout; $160 is Key
Price did extend lower to $150 after the break, but it was really the disappointing earnings that sent BIDU under $130 during the 5/17 session. Here's a brief recap of the earnings report from bloomberg.com:
Baidu Inc. posted a loss for the first time since going public in 2005 as China's biggest online search engine struggles with a changing local market and slowing economy.
The net loss was 327 million yuan ($47.5 million) for the three months ended March, compared with the 187.5 million yuan loss expected by analysts. The Beijing-based company also forecast sales below estimates and said Hailong Xiang, the 14-year veteran who ran the search business, has resigned.
The takeaway is that BIDU is struggling as China slows down. The trade war may have added to the pain but was unlikely the main culprit. The truth is Baidu is losing its dominance. The Bloomberg article concluded:

"Baidu's value as the starting point of info search is being challenged as contents become even more segregated and with fiercer competition," analysts at China Renaissance led by Ella Ji wrote in a research note before the results. "Lack of product differentiation leads to low-efficient users-acquisition spending, putting more pressure on its operating margin."
BIDU Daily Chart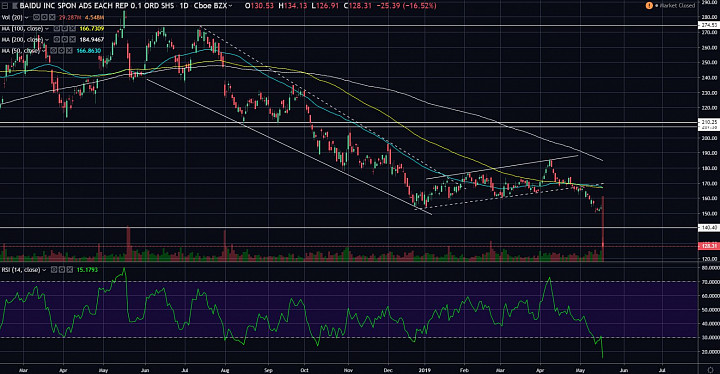 (click to enlarge)
Bearish Breakout:
- We already saw a bearish breakout from its 2019 flag pattern earlier in May.
- After the earnings report. Price clearly broke below the 2019 lows around $150 as well as a support at $140. (See weekly chart below).
- At this point, we should look at the $140-$150 area as resistance.
- Meanwhile, there could be downside to the psychological level of $100, which was also a common support pivot.
- The volume is finally starting to pick up, so I think capitulation is just ahead.
- If price continues to fall sharply with strong volume, I think $100 could become a strong anchor for support.
- Below $100, the next support would be in the $80-$85 area.
BIDU Weekly Chart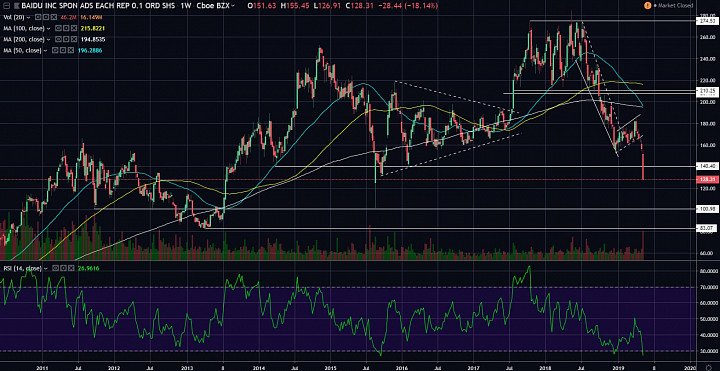 (click to enlarge)