Marriott International Inc. (MAR) - Resistance At $135 was a Sign of Bearish Control
Marriott has been bullish in 2019 rallying from around a $101 low at the end of 2018 to a high around $144 in July 2019. This rally broke above a falling resistance as we can see on the weekly chart below. This was a bullish continuation signal, but I think there will be more short to medium-term downside before the long-term bullish mode resumes.
MAR Weekly Chart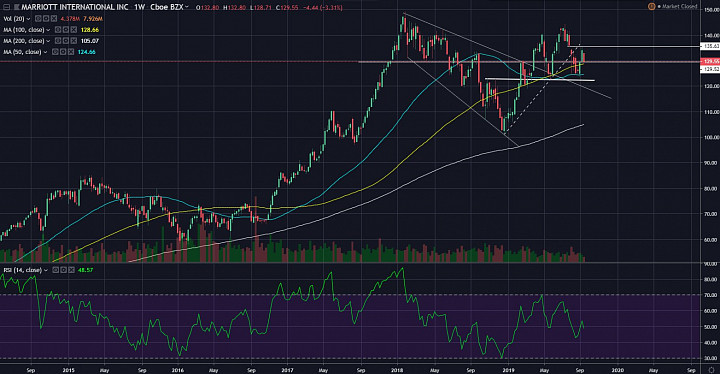 (click to enlarge)
Long-term Bullish:
- First of all, the weekly chart does show a long-term bullish trend.
- However, since 2018, price has been in consolidation mode, and I think MAR is still in consolidation mode.
- Within this context, I think there will be some more downside in the short to medium-term (going into 2020).
Bearish Signal:
- On the daily chart, we can see that price has been bullish since the end of 2018.
- Technically, price is still above the 200-day simple moving average (SMA), and we had a higher high in July relative to May, and a higher low in August/September relative to end of May.
- However, note that price just found retreated from the $135-$135.60 area a previous support pivot. Furthermore, the RSI held under 60, which reflects maintenance of the July-August bearish momentum.
- Maybe this $135 area will become a high, which would be a lower high than July's.
- Because of these subtle signs, I would expect further consolidation and bearish correction going into 2020.
- However, if price does fall, the $122-$122.50 will be a key pivot. A break below $122 might open up the 2018-2019 lows again just above $100.
MAR Daily Chart

(click to enlarge)