EUR/USD Breaks Above a Falling Trendline from December
After dragged down to 1.11 following ECB's QE announcement, the EUR/USD has been consolidating. Last week it drifted to about 1.14 and has been coiling essentially between 1.13 and 1.14.

EUR/USD 4H chart 2/4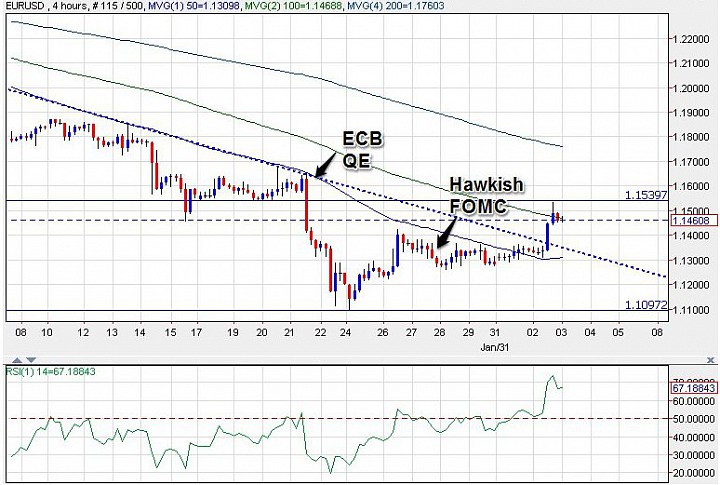 (click to enlarge)
The 4H chart shows that price action during the 2/3 session broke above last week's resistance pivot and above a falling trendline that comes down from December's high at 1.2570 (Yes, that was less than 2 months ago). 

Now, price is flirting with the 100-period SMA and a support pivot from a previous consolidation range. The 4H RSI did tag 70, which shows some bullish momentum, but because the prevailing trend is bearish, the RSI reading also signals overbought conditions in the intra-session time-frame. 

The ADP jobs report tomorrow is often scoffed at by traders as an inaccurate forecast of Friday's NFP, which is what traders really care about. So, if price breaks above 1.1540, the bullish outlook should be limited to the 1.1650 area, which was a common high during the previous consolidation.

If price retreats from 1.1540, or fails to extend a break above (false bullish breakout), then we should look for support around 1.1325-1.1350, which represents the middle of the recent coiling action. 

Let's not jump onto any outlook outside of the short-term until after the NFP. If after the NFP, price closes below 1.13, the EUR/USD might still be bearish. If after the NFP, price can close above 1.14, then EUR/USD may be shifting away from its down trend to a bullish market in the short-term, with 1.1650, then the 1.18 area in sight.