Anticipating Resistance in Home Depot (HD)
Home Depot (HD) has been bullish in 2017 until May, when it cracked 160. Since then, it has been in a bearish correction mode. But, in the past few weeks, price has rebounded sharply. Let's take a look at the chart.

Home Depot (HD) Daily Chart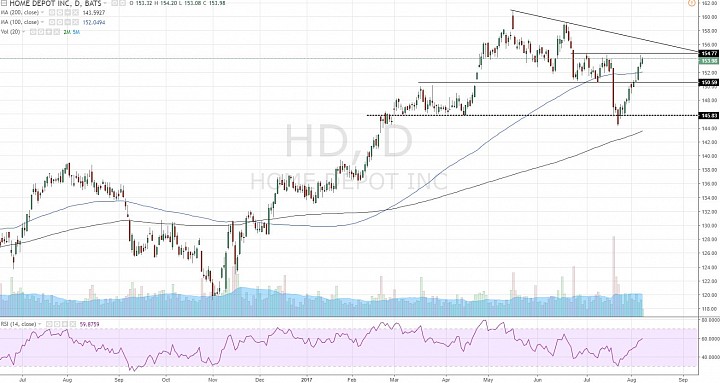 (click to enlarge)
Overall Trend:
- First, note that the overall trend has been bullish since 2009, just after the great financial crisis spread across the world.
- I think we can have a slight bullish bias in the overall trend.
- Furthermore, note that the latest swing in July into August has been a sharp, V-shape like reversal swing. It is very possibly a sign that the multi-month consolidation/correction mode is coming to an end.
Resistance:
- Still, we should note that there is common resistance around 155 and then a falling trendline around 156. With the RSI at 60, we should anticipate some resistance here.
- However, our downside should be limited to 150. If price indeed holds above 150, then, we can anticipate a subsequent break above 155-156. But for now, anticipate some choppiness.

To summarize, we should anticipate some resistance to the current bullish reversal attempt. But because the prevailing uptrend is still intact, we can expect price to eventually break through and test the 2017 high just above 160.