USD/JPY Could be Turning Bearish After Breaking its Trendline Support
We might see some USD weakness ahead. Specifically, the $USDJPY has broken its 2019 trendline support.
USD/JPY Daily Chart

(click to enlarge)
Trend broken:
- As we can see on the daily chart, not only did price break below a rising trendline, it has also made a lower high and lower low.
- This broke the pattern of higher highs and lows that we have seen in 2019 so far.
Support and Resistance:
- Now that the bullish pattern and the rising trendline have been broken, the 111 area could be key resistance against a pullback.
- Meanwhile, we are seeing some support at a previous support/resistance pivot right under 110.
- So, I would anticipate a bounce here, and monitor the 111 area for resistance. If price retreats from 111, then I would anticipate a break below 110, which would essentially open up 108 and the 2019 just under that.
Congestion:
- Looking at the weekly chart, we can see that USD/JPY has been basically in a consolidation period since the 2012-2015 run up.
- By the end of 2015, price started to retreat. Then we saw lower highs and higher lows - a congestion pattern.
- At the moment I would limit the bearish outlook to 108, which has been a common support.
USD/JPY Weekly Chart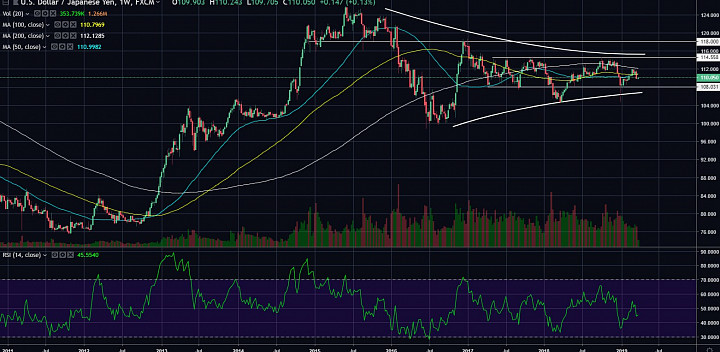 (click to enlarge)