Intel Corp (INTC) - Is it Time to Buy Again?
Shares of Intel Corp (INTC) has shifted from a bullish market into a consolidation market since 2014. Price action in 2016 was bullish, but has also turned into consolidation since piercing the 2014 high around 38.00.

Intel (INTC) Weekly Chart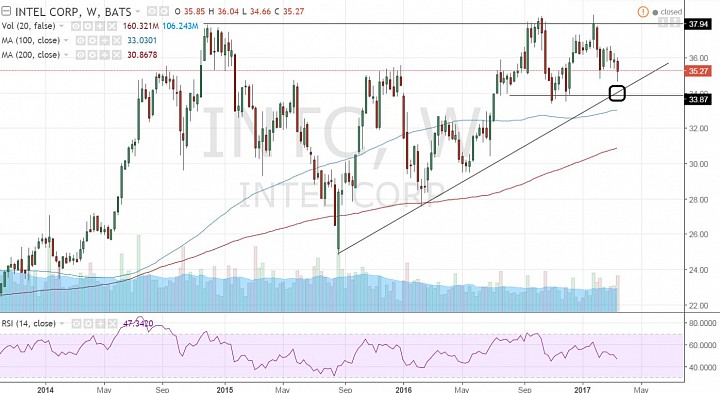 (click to enlarge)
Bullish Continuation Attempt Stalled:
- However, the bullish breakout (above the 2014 high) has not resulted in bullish continuation just yet.
- Price is retreating again from the 38 area. 
- As price approaches the 33-34 area, we will see whether INTC is on a bullish continuation mode, or still in a consolidation mode. 

Critical Support:
- 33-34 is a key support area. A break below 33.30 would complete a double top and break below a rising trendline.
- This would suggest INTC is still in consolidation, and has some short-term downside.
- If price holds above this 33-34 area, then, we could say that price is indeed pivoting higher, suggesting INTC is in a bullish continuation path.