Novovax Inc. (NVAX) Extending Breakout from 2-Year Accumulation (Price Bottom)
Last week, we saw that Novovax Inc. $NVAX was in a bullish breakout attempt. We said if price can clear $2.00 it is probably going on a bull run. So far, this bullish outlook is materializing.
Novavax Inc (NVAX) to Signal Bullish Continuation If it Clears $2.00
NVAX Daily Chart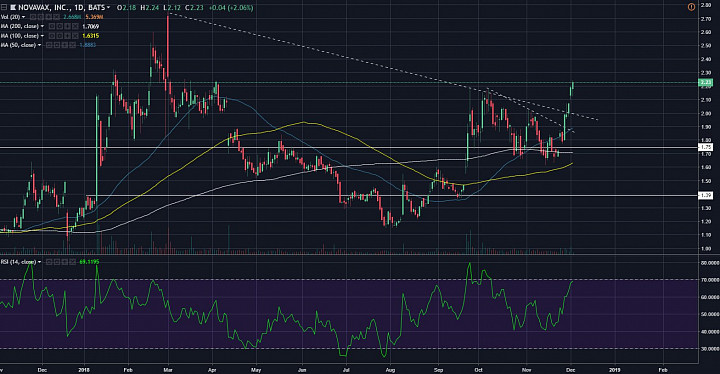 (click to enlarge)
Bullish Breakout:
- After stalling around $2.00 for a session, the market eventually become decisively bullish and pushed NVAX above $2.20 by the 12/4 session.
- There is upside now to the $2.70-$2.75 area, which was the 2018-high.
- The $2.75 level will be a key resistance. Maybe there is some headroom up to $3.00 if general market risk appetite is strong too.
- However, we should note that NVAX has been in a sideways market after a bearish one, so we should respect resistance.
- On the other hand, if price can clear above $3.00, it is probably going towards $4.00, where the 200-week simple moving average resides.
- Looking at the weekly chart below, this price bottom scenario is very likely after a 2-year accumulation period of price mostly trading below $2.00.
- But with a seemingly rounded bottom completed, NVAX might be moving into the $2.00-$4.00 range.
- I would limit any bullish outlook to $4.00 for now, There is always a chance of some increased volatility that might push price beyond $4.00 for a couple of sessions, but I don't think we should expect a sustained move above $4.00, at least in the first half of 2019.
NVAX Weekly Chart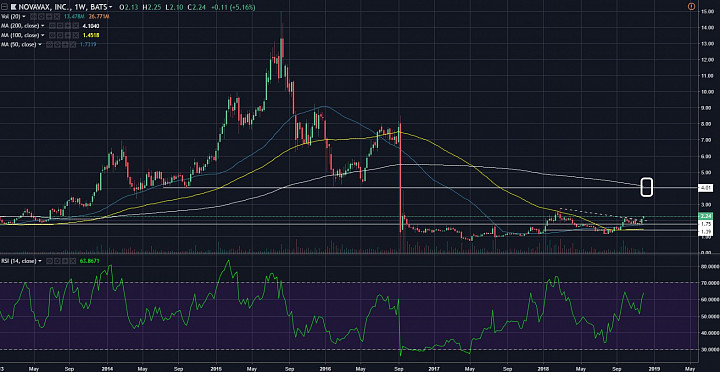 (click to enlarge)