GBP/USD slides sharply as PMI data shows contraction
Today, we saw both the manufacturing and services PMIs from the UK for June.
Here's an excerpt from the official release:
UK economy contracts at steepest pace since early-2009
Key findings:
 Flash UK PMI Composite Output Index(1) at 47.7 (52.4 in June). 87-month low. 
 Flash UK Services PMI Activity Index(2) at 47.4 (52.3 in June). 88-month low. 
 Flash UK Manufacturing PMI(3) at 49.1 (52.1 in June). 41-month low. 
 Flash UK Manufacturing PMI Output Index(4) at 49.1 (52.9 in June). 40-month low.
The UK economy opened the third quarter on a weak footing. Output and new orders both fell for the first time since the end of 2012, while service providers' optimism about the coming 12 months slumped to a seven-and-a-half year low. 
(More from the official markit report)
We kind of knew this was going to happen right? The economy was shrinking in anticipation of Brexit. We should probably see more contraction in July. Chris Williamson, Chief Economist at Markit explained.
" The downturn, whether manifesting itself in order book cancellations, a lack of new orders or the postponement or halting of projects, was most commonly attributed in one way or another to 'Brexit' ...Given the record slump in service sector business expectations, the suggestion is that there is further pain to come in the short-term at least." (official markit report)
The pound was already pressured, and retreated further after the PMI data. 
GBP/USD 1H Chart 7/22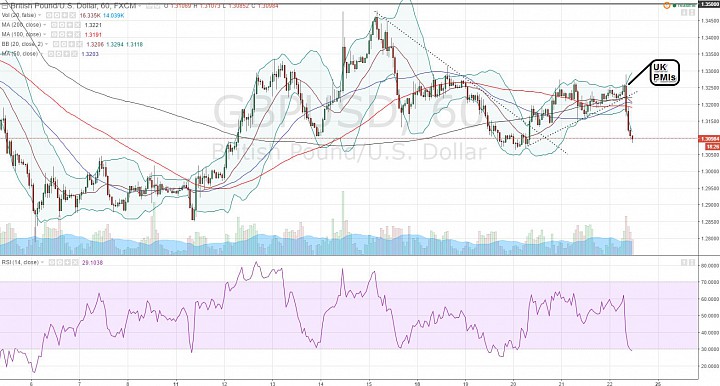 (click to enlarge)
1.3250 holds:
I noted that GBP/USD should hold below 1.3250 to remain bearish. 
I also noted that a break above 1.33 might be needed to open up the bullish scenario. 
The market flirted with 1.3250 throughout the 7/21 and early 7/22 sessions.
However bulls never committed enough to push the pair above 1.33. 
We can see that the disappointing PMI data took the air out of the bullish attempt. 
Now, I think the GBP/USD has downside risk towards the 1.30 handle. 
Resistance:
If there is a rally, I would anticipate resistance at 1.3150.
Failure:
At this point, I think a break back above 1.32 could represent failure of bears and open up the bullish outlook back towards 1.3450.