Walmart (WMT) is a Better Buy Back Around $92-$94
Walmart $WMT rallied sharply after the most recent earnings report for Q2. The highlight was a 40% growth in online sale in the 12-months to Q2. Some other highlights as noted by CNBC:
Adjusted earnings per share: $1.29 vs. $1.22 expected
Revenue: $128.03 billion vs. $125.97 billion expected
Same-store sales in the U.S.: an increase of 4.5 percent vs. an increase of 2.4 percent expected
Here's some analysis from Wall Street:
Earlier in the week, we noted that the market was already turning bullish on Walmart (WMT), but needed to break the 200-day simple moving average (SMA). Below, we can see that price walked up to the 200-day SMA before earnings, and jumped over it after the earnings event.
Walmart (WMT) Daily Chart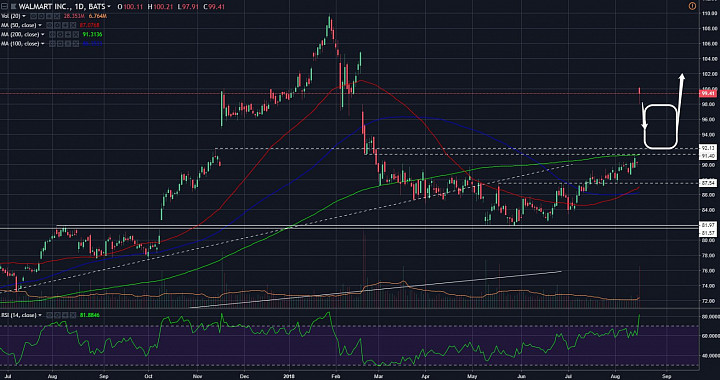 (click to enlarge)
Waiting for a Pullback:
- Walmart surged about 10% in after-hour trading when the earnings report came out.
- So we are seeing a huge gap during the 8/16 session.
- It it possible that the market is so hyped that it will simply continue towards the high on the year around $110.
- But, I think it might be better to wait for pullback towards the $92-$94 area.
- From here the reward to risk (tgt: $110, stop: $85.50) means a $16:$8.50 reward to risk, or just under 2:1.
- If you chase now, you risk a lot more for a small gain to make it back to 2018-high.
- Then, as you hold a position, you will probably not be convinced of a bearish market unless price dips to $85.50. That is a lot of risk from the current level at almost $100.
- Now, we might not get a straight pullback and rebound. There will probably be a period of consolidation between the $94 and $100 area. This also would give us a chance to observe new support levels and plan around them. (I anticipate the consolidation low to be in the $92-$94 area.)