Johnson & Johnson (JNJ) Signaling a Possible Reversal Against its 2019 Rally
Johnson & Johnson $JNJ has been rallying since late December. But after a run from $122 a share to $140 a share, I think JNJ is topping.
JNJ Daily Chart

(click to enlarge)
Topping?
- As we can see on the daily chart, JNJ has been making higher highs and higher lows since late December.
- However, it failed to break above $140 twice, forming a possible double top.
- We also saw a lower high last week.
- Finally, the key support is right around $136.60. Price briefly broke this support but closed the 3/25 session right on top of it.
- If price closes below $136 this week, I think we are going to see some more downside in April.

Consolidation:
- As we can see on the weekly chart, JNJ's bullish trend stalled in 2018 after $148 held as resistance twice (double top?).
- We can say that JNJ has been in consolidation mode.
- During this consolidation mode, there could be downside back to the $120-$122 area.
- I would not be surprised if price eventually extends lower towards $110.
- For now though, I would limit the bearish outlook to the $120-$122 area, but I am making sure I have dry powder for this area as well as the $104-$110 area.
JNJ Weekly Chart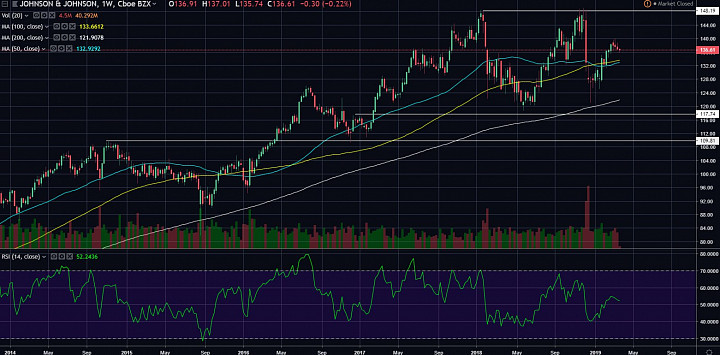 (click to enlarge)