Freds, Inc. (FRED) Approaching Range Support; Reward to Risk for a Buy
In March, Freds Inc. $FRED failed to break, or even tag the $3.50 range resistance. Since then, price has been sliding persistently back towards the range support.
FRED Daily Chart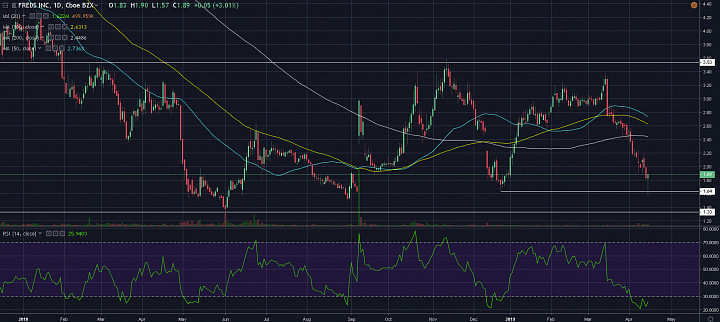 (click to enlarge)
Consolidation:
- FRED has been in consolidation mode after a period of contraction.
- This consolidation represents some "hope" the market has for Fred's restructuring which essentially involves selling business units or store closures.
- I don't think there is a lot of upside for Fred's unless it pivots into someone less competitive than a bargain store.
- But maybe the downside has been priced in, and there is a chance the market likes Fred's between the $1.35 range support and the $3.50 range resistance.
- For a trader, this is a large range.
- Let's say we can get a buy around $1.50, with a stop at $1.25. We just need the target to be $2.00 to see a 2:1 reward to risk profile.
- If we look at the middle of the range and the 200-day simple moving average (around $2.40) as the target, we can see a reward to risk of about 3:1.
- An aggressive target of $3.00 would be 6:1.
- Note that all these targets are within the context of a neutral-bearish market. We are not targeting above or even the resistance of the range.
- BUT, just because the reward to risk is good, it doesn't mean its a good trade. If you believe there is a 50/50 change price can bounce back to the middle of the range, then it would be a good trade.
- If you believe Fred's is going to declare bankruptcy soon, then the $1.35 low or even the $1.00 psychological support level would be unattractive.