USD/CAD Pulling Back after a Bullish Breakout
USD/CAD is in a pullback and could be a candidate for buying on the dip.
$USDCAD Daily Chart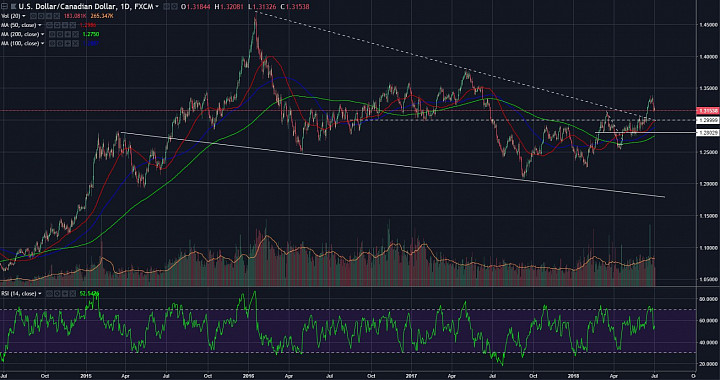 (click to enlarge)
Bullish Breakout:
- The daily chart shows a market that has been consolidating since USD/CAD reached 1.469 in early 2016.
- We can even say that USD/CAD is still in this consolidation mode.
- But there is a bullish breakout above the falling resistance, which could be an initial sign of a bull run.
- We would be talking about a bull run first to the 2017 high just under 1.38. Above that we can be looking at 1.46. This bullish outlook is supported by the fact that USD/CAD was bullish before settling into consolidation mode in 2016.
- The bullish outlook would also be supported if price can hold above 1.30 on the current pullback.
- Its going to be a little tricky because 1.30 is a psychological level and we might see a bullish trend anchor from here.
- However, I would not turn bearish until price breaks below 1.28. So even if price falls below 1.30, I would still have some bullish bias although not as strong as price holding above 1.30.