Morgan Stanley (MS) in a Bullish Breakout, But Faces Resistance Just Ahead Around $46
Shares of Morgan Stanley $MS has been trading higher in March than it has in February, when it was trading in a range between roughly $40.15 and $42.90. Price has pushed above $43 and is now pushing higher at the start of this week (3/18). While this bullish breakout may have confirmed the end to a bearish trend, I would still anticipate resistance around $46 in the short-term.
MS Daily Chart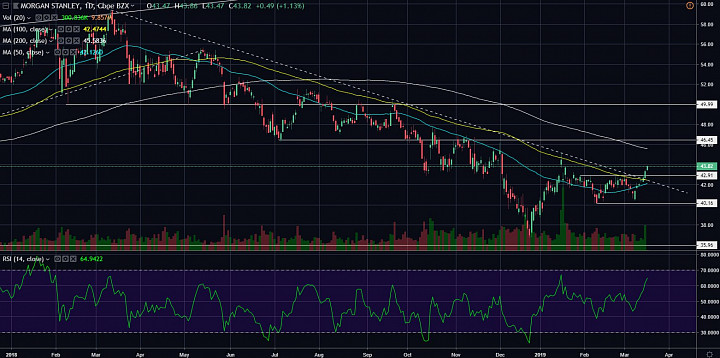 (click to enlarge)
Bullish Breakout; Trend Shift:
- As we can see on the daily chart, price action has been bearish since early 2018 until late December.
- Since then, we have seen some consolidation with a bit of a bullish tilt (because the $40.15 low in Feb/March was above the $36.75 low in December 2018.)
- It would not surprise me therefore if the current bullish attempt pushes above that January 2019 high around $45.10.
Resistance:
- As price pushes towards $46 however, there is the 200-day simple moving average (SMA), which can act as resistance if the trend is still bearish.
- Furthermore, the $46-$46.50 area is a key support/resistance pivot area.
- If we see price stall here and perhaps develop a bearish divergence against the RSI, I would anticipate a bearish attempt.
Key Support:
- At this point, I think the $42-$43 area is a key support area.
- So if price retreats, and breaks below $42, I think MS would be in a bearish continuation towards the $36 area.
- However, a hold above this $42-$43 area could be more evidence of a bullish reversal, which could open up the $50 area as the next target/resistance.