S&P500 (SPX) - Upside Still Limited Despite Strong Jobs Report
We recently discussed how retreating from 2530 showed that market was still bearish, specifically on the S&P500 index. In the following session, price rallied sharply and cracked the 2530 level. Still, we had mentioned that the bullish outlook should be limited to 2560-2600, and this is still the case.
S&P500 Daily Chart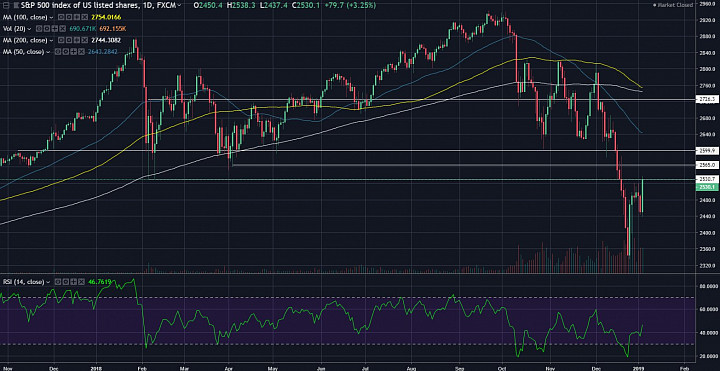 (click to enlarge)
Bullish Engulfing Candle:
- The 1/4 session ended with a bullish engulfing candle.
- We should expect some follow-through, but I would still limit the bullish outlook to the 2560-2600 area.
Event Risk:
- The Friday rally can be attributed to the better-than-expected jobs report in the US.
- The forecast for non-farm payroll growth was around 179K, but the report showed 312K jobs added in December. On top of that, the previous month's number was revised up to 176K from 155K. (forexfactory.com)
The December Jobs Report Is Great News For Job Seekers
- While this is good sign that might support the stock market, it might not be enough to turn it bullish. We might now shift into more of a sideways consolidation, but still with bearish risk simply because the bullish trend has gone so long uncorrected. Now that the market appears to have capitulated, we should not expect such a sharp turnaround even though that has a non-zero probability.