Copper Price Could be Bottoming
Price of copper has been falling sharply since June when price tagged $3.30, which was almost at the previous high from Dec. 2017 ($3.32). On the daily chart, we can see the sharp slide down to about $2.55.
Copper Daily Chart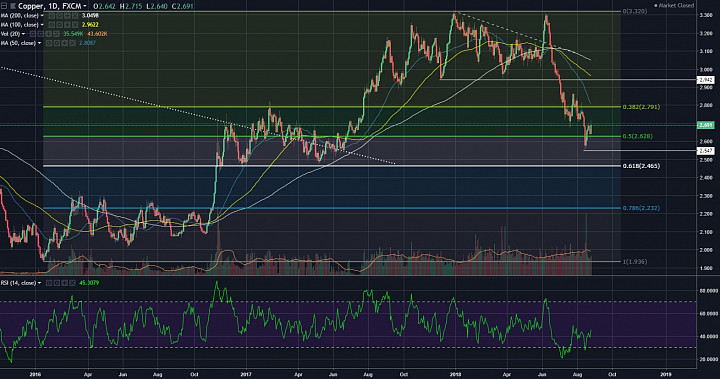 (click to enlarge)
Fibonacci Retracement:
- The daily chart shows that after a sharp dip, price has pulled back to between 50% and 61.8% Fibonacci retracement levels.
- Also note that the RSI and price shows a bullish divergence.
- Furthermore, note that price is in the middle of a previous range, where we can say price action was "sticky".
- I believe the market will stabilize here, with downside risk limited to the $2.46 low of the noted consolidation range in late 2016-early 2017.
- From here there is upside to the $2.90-$3.00 area, which the is support of the price top.
- This is also the middle of the moving average cluster (200-, 100-, and 50-day SMAs).
- We can anticipate resistance here, especially if the daily RSI is around 60.
- It would be premature to say that the market is going to turn bullish from our anticipate support area.
- It is more likely that we see a period of consolidation, possibly similar to the one from late 2016 - early 2017, and within a relatively similar range, though maybe a bit higher like between $2.55 and $3.00 instead of between $2.46 and $2.80.
Volume:
- Finally, the most recent dip in August was accompanied by very high volume.
- Because this is not volume from the beginning of the dip, I believe it can reflect capitulation, or a final blow-off, another reason to believe copper prices could be bottoming soon.