USD/CHF - Looking at a Range Trade Idea
USD/CHF has been a pretty "boring" pair in that it has been choppy and sideways since 2016. But if it remains "boring" that might be good for the range traders.

USD/CHF Daily Chart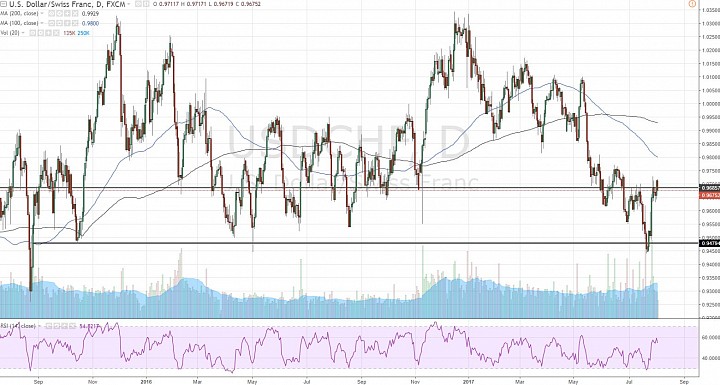 (click to enlarge)

Range:
- Since 2016, price has been ranging between roughly 1.03 and 0.95. We did see price go above 1.03 a couple of times, and price recently dipped blow 0.95, but quickly rebounded.
- It is this sharp rebound right after breaking range support that suggests bulls are still in charge.
Buy on a Dip Idea:
- Now that we got a clue from the market that bulls are still in charge, we should assess the upside.
- While it is possible price will return to 1.03, we should also prepare for the alternative, which is price stays on the lower half of the range.
- Thus, we should limit the target to 0.99, at least when we assess the reward to risk. There are ways to extend our target later, but we won't discuss that yet.
- At the moment, a long position at 0.9690 with a target of 0.99 might be 1) premature 2) risky.
- It might be premature because as the rally is already stalling, there is a strong chance there will be a pullback before more upside.
- It might be risky because we won't know we are wrong until price falls below the July low, which is a risk of more than 200 pips. The reward is just above 200 pips, so it would be barely 1:1.
- Now, if we wait for price to dip and plan an entry around 0.9550, the reward to risk will improve dramatically, to 2.7 if the stop is at 0.9420 and target is 0.99.
- So, I think the July V-shape reversal was a good bullish sign and I think if price comes back down to 0.9550, we can consider going long with a target to 0.99. We should also consider 0.98 as a conservative target.