USD/JPY Maintains Bullish Bias Fundamentally and Technically
This week, after the FOMC attributed the slow growth in Q1 and the winter months to transitory factors, it essentially told the market it is planning to raise rates this year. The timeline was unclear and although it did not rule out a June rate hike, we know its not likely to happen because it still needs to see further labor market improvement and a positive inflation trend back to 2.0%. Even if we get good data throughout this month, it won't be enough. Instead, most projections call for a September rate hike.

The BoJ however remains dovish. In its statement this weak, it expressed no need of further easing, but said it would be ready to act. Some members had pessimistic outlook on inflation as well, saying the target would not be met even by 2017. The divergence in central bank stances should keep the USD/JPY bullish.

USD/JPY Daily Chart 5/1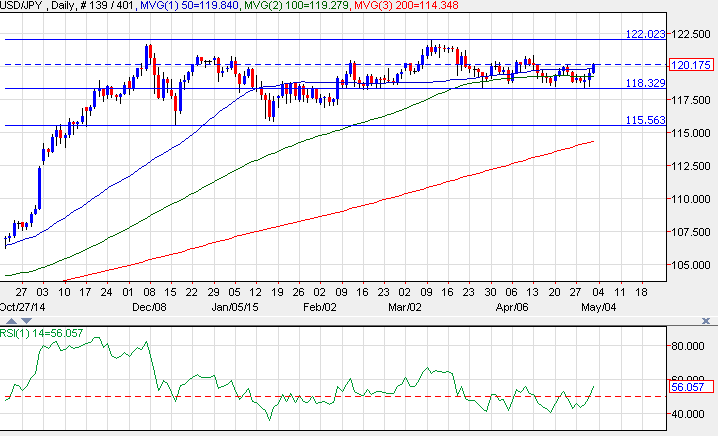 (click to enlarge)

The daily chart shows that price has been consolidating for months now between roughly 115.56 and 122.02. Now, within this consolidation, we are still seeing bullish bias especially after this week's price action. 
1) The RSI has held above 40, which reflects maintenance of the prevailing bullish momentum.
2) Price is staying above the central pivot of the consolidation range, which is around 118.30-50.
3) Price is staying above the 200-, 100-, and 50-day simple moving averages (SMAs).

With the bullish bias maintained, we should expect a rally towards the 122 area. However, with uncertainty still lingering around whether the FOMC will raise rates in September, we should expect resistance there with downside risk at least back to 120, if not the 118.30-118.50 central pivot area.