AUD/NZD Approaches Key Neckline Again
The AUD/NZD has been in consolidation mode in the second half of 2016. This is after a bearish run, and the structure of this consolidation suggests it could be a price bottom. As we can see on the daily chart below, the 1.0765 area has been a critical resistance. In fact, we can say that it is a neckline, a break above which would complete a multi-month price bottom and open up a bullish outlook.
AUD/NZD Daily Chart 2/14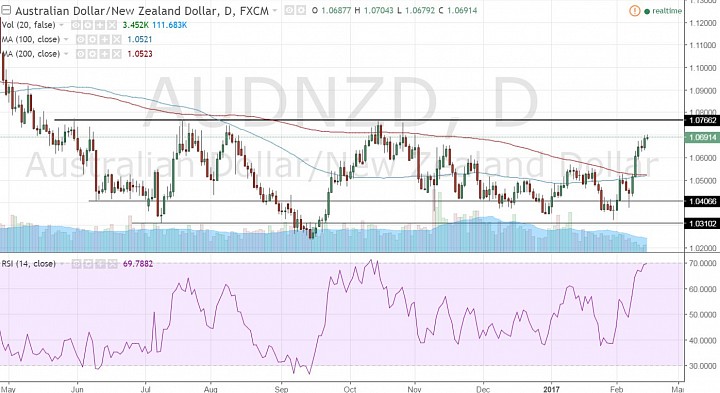 (click to enlarge)
The Shoulder:
- The daily chart shows that there is a lone price bottom below 1.03. 
- Otherwise, price has held above the 1.0310-1.0350 area. 
- Based on this structure, we can say it looks like an inverted head and shoulder, where the second shoulder is a lot wider than the first.
- Regardless of the different dynamic in the second shoulder, the fact that there was a shoulder suggests AUD/NZD could be developing a price bottom.
Neckline:
- The level is still around 1.0765.
- A close above 1.0770 would signal a bullish market with at least the 1.10 handle in sight.
- Furthermore, if there is a pullback, we should first expect support around the current resistance of 1.0765.
- But as long as price holds above 1.0550, the bullish scenarios should be valid.