Goldman Sachs (GS) Recovers Sharply after Q4 Earnings Report; But Let's Limit Outlook to $210-$220
Earnings Season continues to roll, and the Goldman Sachs $GS Q4 earnings report surprised with better-than-expected profit.
Here's a summary from CNBC:
The bank generated $6.04 per share in profit for the fourth quarter of 2018, versus the $4.45 per share estimate of analysts surveyed by Refinitiv. Excluding the impact of the U.S. corporate tax overhaul, the New York-based bank posted profit of $4.83 per share. Revenue of $8.08 billion also beat the $7.55 billion estimate.
The bank's shares rose 8.4 percent on Wednesday. The stock was also on track to post its best earnings reaction since December 2008, according to Bespoke Investment Group.
From Goldman Sachs shares surge after fourth-quarter profit tops expectations (CNBC)
It should be noted that this was one of the strongest earnings-reaction we have seen in GS in a while. I think this reaction could prompt extension of its current recovery, but I don't think it will be enough to turn GS into a bullish name just yet, not while there is still a lot of idiosyncratic (market) risk.
GS Daily Chart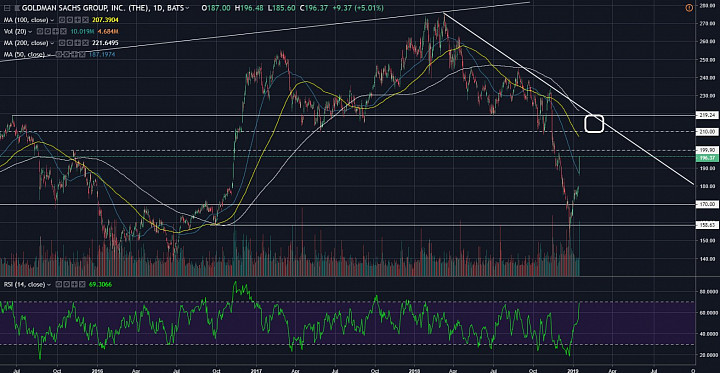 (click to enlarge)
Resistance Ahead:
- The bearish correction started in April 2018, when price peaked just above $275.
- Price almost reached $150 by the end of December, but rallied sharply at the turn of the year.
- The positive earnings reaction is accelerating this V-shaped reversal and should be able to extend it to at least test the $200 handle.
- If the overall market is showing resilience, GS might continue this rally, but I would cap the bullish outlook to the $210-$220 area for now.
- While the sharp rally might have established $150-$155 as a key support area, it does not necessarily signal a long-term bullish outlook for GS.
- Because of the prevailing bearish trend, we should pay attention to the $210-$220 support/resistance pivot area.
- This area also involves the 200-day simple moving average (SMA), as well as a falling trendline.
- Finally, the RSI is heading into overbought territory. A bearish divergence between the RSI and price action could be a strong indicator that the current rally is coming to an end, so watch out for that as well.
- As mentioned above, the downside could be limited as well after establishing strong support above $150. I would limit bearish outlook to $180 for now.