Boston Beer finds a support; I am looking to sell on a rally
Boston Beer (SAM) failed to establish a price bottom in 2016. As we can see in the daily chart, price rounded up a bottom between ay and July. It looked promising going into August, but price was unable to clear the critical support/resistance hurdle roughly between 195 and 202. Note that there was also a falling trendline which reinforced the resistance to reject the rally. 

SAM Daily Chart 10/3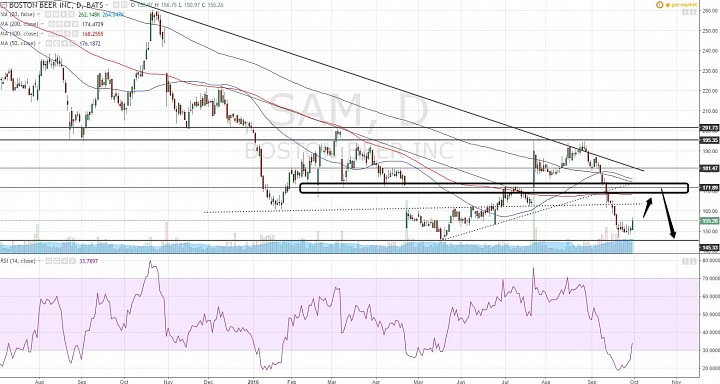 (click to enlarge)

Support at year's low:
- Price retreated from 195 sharply.
- In a month, SAM lost all the gains it has garnered from May to August.
- Price was closing in on the low on the year at 145.33, but stuck to around 150, with lows to 146.87.
- Now, with the 150 area seemingly providing support, we can expect a bullish attempt, but I would not count on it to reversal the downtrend in SAM. I mean, why anticipate a change in the trend when the downtrend is intact. 

Look for resistance around 170:
- If price does rally something like 10% from where it closed last Friday (155.26), then we will see it push to 170.
- Now we should anticipate resistance if price does push to 170. 
- 170 is a psychological level, but also a support/resistance pivot area. 
- The cluster of 200-, 100-, and 50-day simple moving averages (SMAs) also reside around 170. These should be seen as potential factors for resistance, especially if we believe SAM is still in a bearish mode (since the start of 2015).
- The fact that the the July/August high was lower than the March high suggests that the next low could be lower than the May low. 
- Therefore, if price is around 170, I would anticipate a push first towards 150, but also below 145.33 - something like 140.