GBP/USD - Negative Reversal Signals Further Downisde
GBP/USD has been in a bearish swing after a previous bullish swing to 1.4376. As we can see on the daily chart, the downswing essentially killed the 2017 bullish trend. 1. Price is below the 200-day simple moving average (SMA) now. 2. Price action basically formed a double top and fell from it. 3. Price action broke below a rising trendline. The fact the RSI dipped below 30 also reflects the bearish momentum in the past couple of months.
Daily Chart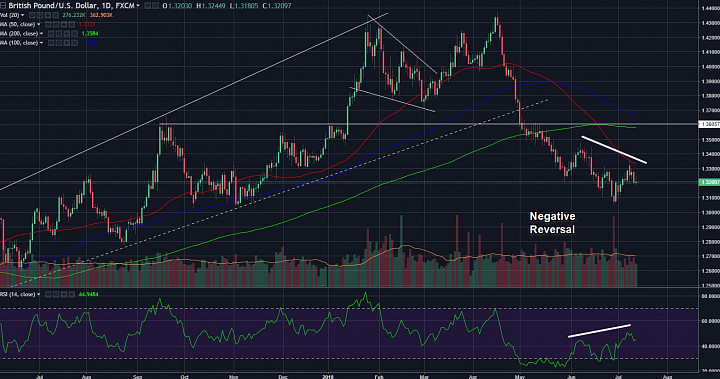 (click to enlarge)
Negative Reversal:
- With all the bearish signs above, we might ask whether the market has already ran the course of the bearish swing.
- Based on the price action-RSI dynamic, we should expect another push towards 1.30 or even 1.28 before we see support.
- I am talking about the RSI making higher highs while the price is making lower highs. We monitor these signals within the context of a market that has already made a bearish swing, and has actually seen a bullish divergence. The negative reversal suggests that even though the bearish trend might be slowing down, and becoming more choppy, it is still a bearish one, and should make a new low on the current downswing.
- Don't be surprised by a dip towards 1.29 (I simply picked the middle of the 1.28-1.30 zone of support).