Amazon (AMZN) Might Have More Downside after Recent Sideways Action
Amazon $AMZN made an all-time-high in August/September at $2022.38. It has since been in a correction mode, falling down to $1420 in the middle of November. On the daily chart below, we can see that the bulk of the correction happened in October, and price has shifted into more a sideways action since the start of November.
AMZN Daily Chart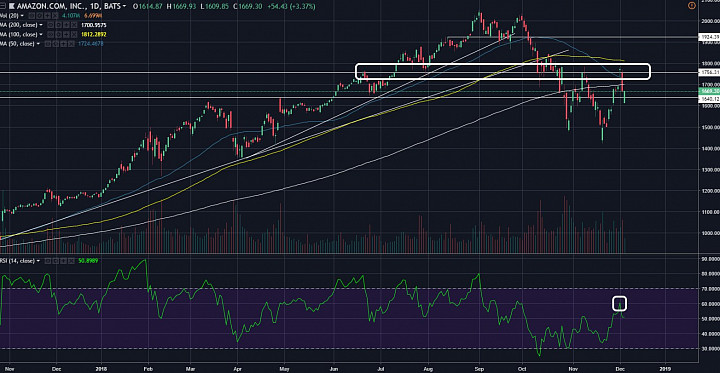 (click to enlarge)
Consolidation with Bearish Bias:
- The daily chart shows that price did start trading more or less sideways, but with a key resistance just under $1800.
- We saw this resistance reject the market a third time this week.
- It is starting to look like price is struggling to climb back above the moving averages, especially the 200-day SMA.
- Finally, the RSI was held under 60, which is a sign that the bearish momentum is still intact.
- It looks like price will have to break above $1800 before the market regains confidence for the upside.
- On the other hand, there is downside below the current low around 1420.
- I think there will be more downside towards the $1345 area, where we will see a common support/resistance pivot from early 2018. This might be a strong base and thus provide support.

AMZN Weekly Chart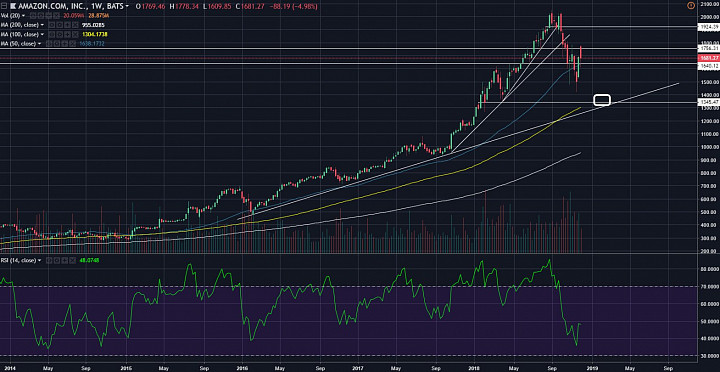 (click to enlarge)