iQiyi (IQ) Approaching Support Area Around $20-$22
iQiyi $IQ, the 2018 IPO some call the Chinese Netflix $NFLX continues to retreat after it's pump to $46 in June. The pullback was sharp at first but has since slowed a bit as we can see on the daily chart below. Also, it is approaching our anticipated retracement target of 78.6% around $22 a share.
IQ Daily Chart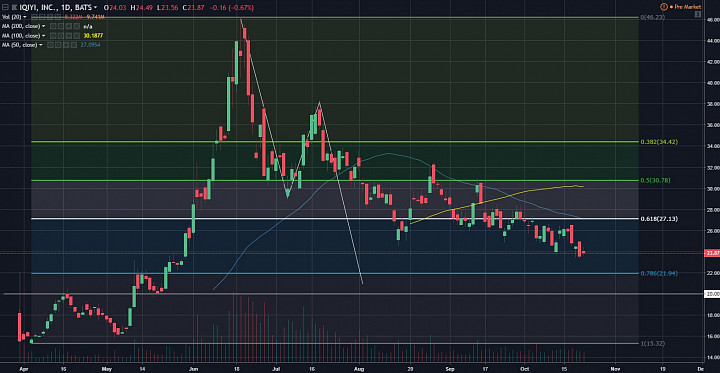 (click to enlarge)
Deep Retracement:
- IQ IPOed around $18, dipped to $15.30, and then surged to $46.20.
- Now price is approaching a key Fibonacci Retracement level of 78.6%, where price is around $22.
- I think this $20-$22 area will be a key support.
- IQ is a risky name because it is still operating with high debt levels, kind of like Netflix.

Earnings:
- Earnings will come out Oct. 30.
- I think if IQ holds above $20 by the end of the month, it is likely to have found support here and we can anticipated a rally in the short-term.
- I think earnings will reflect why the market has been fading IQ. It has some a lot of expenses at this early stage of its development and distribution. But, because the market has been pricing in caution, I don't think a negative earnings report at this point is going to have much more bearish pressure on IQ, outside of the very short-term.

Reward to Risk:
- My strategy however is not to just buy a bounce in the short-term.
- To me, price can still easily fall to $15-$16, which is a 20%-25% risk if I buy around $20.
- But there is a lot of upside if IQ does become the Netflix of China, a much larger population with a burgeoning middle class.
- The risk is high, and the holding period might have to be long-term.
- But I can see upside is be at least 100% from the $20 level by 2020.