General Motors (GM) - a Textbook Negative Reversal Case
General Motors (GM) is in a bearish mode after completing a price top in 2017. Price found support from a rising trendline earlier in April. However, a negative reversal signal should have warned us that another low was coming.
General Motors (GM) Daily Chart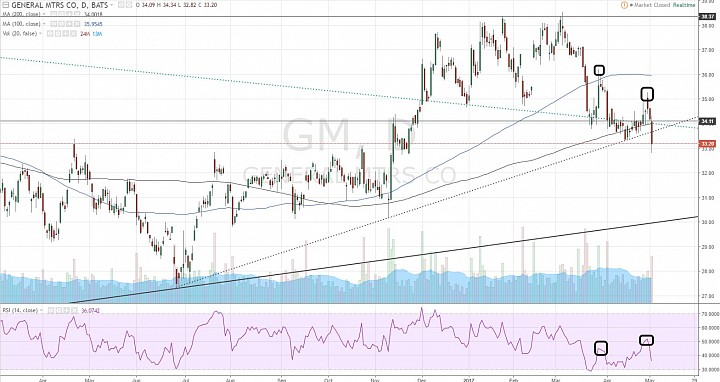 (click to enlarge)
Negative Reversal:
- The RSI Guru, Andrew Cardwell describes a negative reversal as the combination of a higher high in the RSI but a lower low in price action.
- The premise is that the market is already bearish, and the RSI has tagged 30.
- This signal means that while the market has slowed down the downtrend, there is potentially another low ahead.
- The daily chart shows a textbook case of the negative reversal, which was established last Friday, April 28.
Now What?
- The bearish price action suggested by the negative reversal has already materialized.
- The question is whether there will be further extension downwards towards the psychological level of 30. 
- If price approaches 30, it will also be tested by a rising trendline support.
- I would stay on the sidelines on GM, unless it does fall towards 30. 
- If price stalls at or just above 30, we can anticipate a strong rebound. In this scenario, we should have a conservative outlook towards 33.50-34, and not more than 35. This bullish outlook would still be within the context of a bearish correction.